How to Prepare for Spring Cleaning Your Apartment
With everyone talking about spring cleaning, the pressure to get tidy may have you biting your nails and wondering, where the heck do I even begin?
If that sounds like you, then listen up.
We put together a helpful how-to on how to prepare for spring cleaning as well as get you inspired to tackle those dust bunnies and clean out the closet you've been avoiding. After all, you should save the worrying for more important things, like what day to head to Light City Baltimore?
8 Tips to Spring Clean Your Apartment
1. Have a plan in place
To reduce the amount of chaos going on in the rest of your apartment, sketch out a simple plan on paper. Think about which room needs your attention first. When do you expect to have your spring cleaning complete?
If you aren't sure where to begin, you can take our 30 Days to a Clean Apartment Challenge. Click the image below to print and set aside the next thirty days to tackle these spring cleaning areas.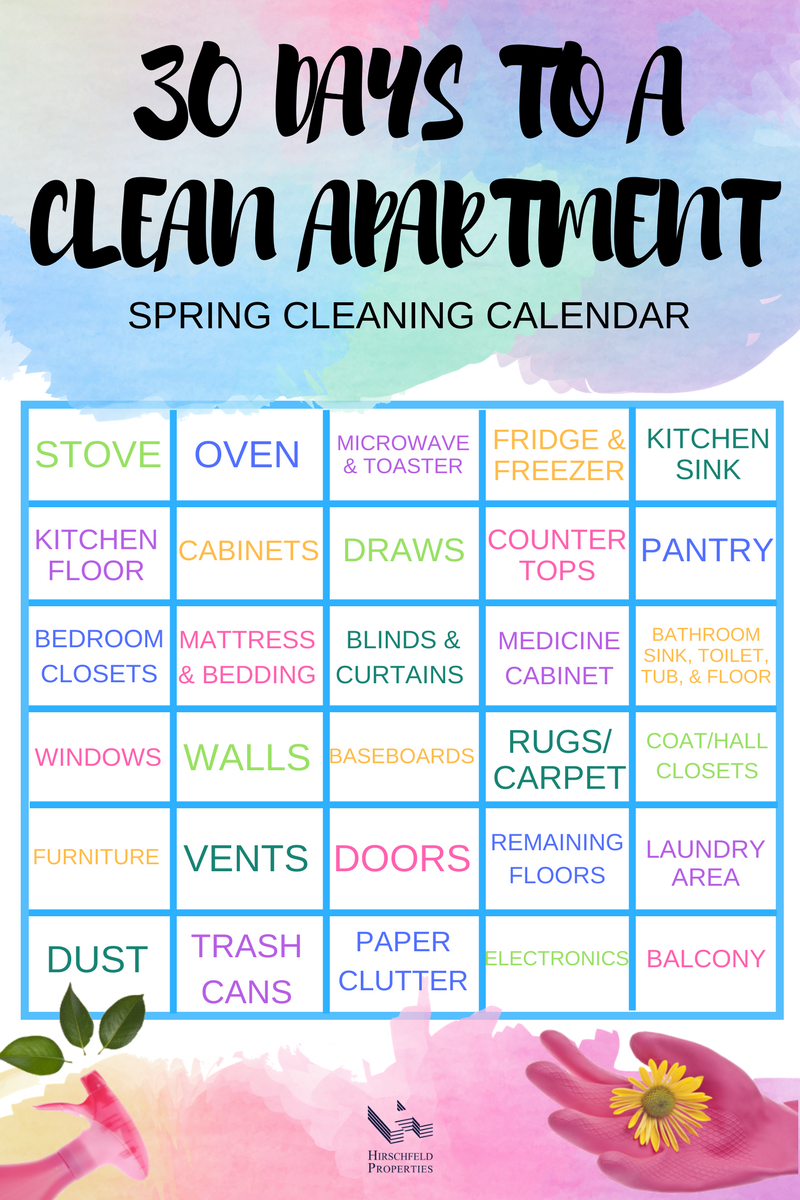 2. Declutter, declutter, declutter
The adage is true if you don't love it, if you haven't used it in over a year, or if it doesn't make you smile – get rid of it!
For a little decluttering inspiration, enjoy the free printable below. Frame the quote or hang it on your fridge for motivation.
Also, when it comes to decluttering, try donating what you don't need rather than throwing it out. Donating to others is always a good feeling. Imagine your apartment sparkling clean, and driving off with a box of items to donate to those in need. It's a great feeling!
Quick Tip: Be sure to take the box of donations right to your car when finished so that you won't forget it, or begin looking through it and taking those things back out.
3. Get organized
It's much easier to give your apartment a deep clean if your things are already put away. It's the perfect time to implement "a place for everything, and everything in its place."
Quick Tip: Grab 3 bins: one for things to throw away, put away, and donations.
4. Check your cleaning supplies
The last thing you want when you are ready to clean is to realize you are out of furniture polish! Check your supply and make a list of all of the items you need to pick up the next time you go out.
Quick Tip: This is an excellent time of year to find deals on cleaning supplies. Check your local stores for sales and coupons for your most needed items such as rubber gloves, sponges, etc.
5. Make yourself a new playlist
Create a fun channel on Pandora or playlist with your favorite music streaming service. Music is a great way to stay motivated and can make tedious obligations like cleaning fun. Pretend the mop is a microphone and belt out Adele as you make those kitchen floors shine.
6. Schedule a time to start your cleaning
Just like having a plan, you want to mark off your cleaning days with a time to start and stop. Put it on the calendar. Having a scheduled time to start your clean will help keep you on track.
7. Have your favorite quick snacks and beverages ready
Are you a coffee lover? Then start by making a fresh pot before tackling the cleaning. Fill your water bottle with fresh cold water and stay hydrated! Have your favorite quick meals or snacks on hand as well. If you aren't hydrated and eating throughout the day, you will run out of energy before you can reach your goals.
8. Don't forget to take breaks throughout the day
To avoid burnout and fatigue, take little breather breaks. No one said you have to go hardcore straight through; it's only realistic to break for a breather.
But, don't rest for more than 15-30 minutes, so you don't get too cozy and lose your motivation. Set your timer to remember to take breaks!
Time to Start Spring Cleaning
Now you are ready to start your spring cleaning journey! Best of luck and remember to have fun.
After you prepare to Spring Clean your Apartment, don't forget to read our blog on "Simple Spring Cleaning Tips!"