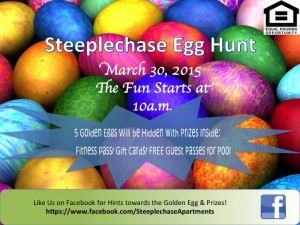 Steeplechase is Hosting an Egg Hunt
For the past couple of years our Steeplechase Egg Hunt event in Cockeysville, Maryland has been quite a success, and lots of fun!  We are looking forward to it again this year.  Starting on March 30, 2015 we'll be hiding some eggs around the property with prizes inside.  We'll see you on the 30th!  Since we like to host Resident Appreciation Events each and every month, please check out our blog for updates, as well as Facebook and Twitter!
So how will you know where to find the eggs?  Don't worry, we will be sharing tips with you via social media!  So follow us on Facebook and send us a Tweet!