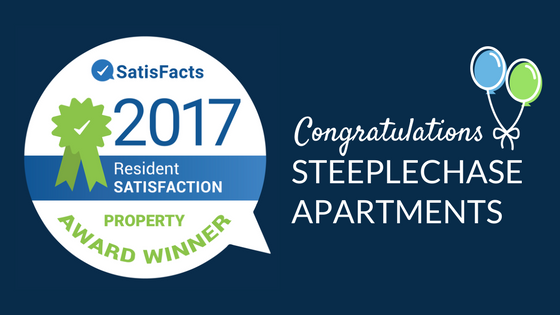 Congratulations Steeplechase! Our Cockeysville, Maryland Apartment Home Community is a proud recipient of the 2017 National Resident Satisfaction Award, presented by SatisFacts.
As always, our goal at Hirschfeld Apartments is to make you and your family feel at home. Since our integration with SatisFacts, our properties have further committed their efforts to listen and respond to feedback. Resident experience is a top priority for our property managers, and so we are extremely pleased to recognize Steeplechase's achievement.
We'd like to thank all Steeplechase employees for working diligently towards resident satisfaction and proactively listening to feedback. We also greatly appreciate the Cockeysville community members for taking the time to leave reviews on ApartmentRatings.com. It is through the continuous feedback from our residents and the responses from our managers and staff that make this SatisFacts award possible.
Keep up the excellent work Steeplechase! We look forward to another wonderful year in Cockeysville MD.