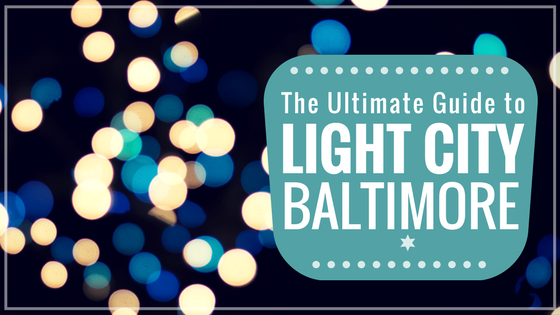 Light City Baltimore is Back
Light City is back, and it promises to be bigger and brighter than ever!
Therefore, in anticipation of the event, we decided to create the Ultimate Guide to Light City Baltimore.
In this post, learn about Light City, find out what happened last year, and what to expect this year. Plus, get the scoop on the must-see exhibitions, events, and performances of Light City Baltimore 2018.
Let's get to it!
What is Light City Baltimore?
Light City is a HUGE, FREE art event in the downtown Baltimore area. It is the largest light and ideas festival in the country! With interactive displays, performances, and food and vendors, there's something for everyone to enjoy.
The entire Light City event will take place over a span of three weeks in total, and is broken down into three parts:
Neighborhood Lights – April 06-08, 2018
Light City Festival – April 14-21, 2018
Labs@LightCity – April 18-21, 2018
The festivities kick off nightly from 7:00 pm – 11:00 pm (and 12 am on Fridays and Saturdays).

Recap of last year
Last year, over 470,000 people attended Light City Baltimore. Check out the video below to see a recap of last year's festivities.
Twitter can tell you how much fun everyone had. Check out these 2017 tweets below:
1.
#LightCityBaltimore. Bands, crowds and lights. Crushed It! pic.twitter.com/SAcuFCSYnN

— carla merritt (@MerrittCarla) April 11, 2017
2.
Good times had by all walking around downtown for #LightCityBaltimore. Glad I was able to make it after all ? pic.twitter.com/gELe2bm1A7

— Lindsey Wenthen (@lindzw23) April 9, 2017

3.
I went out to #LightCityBaltimore to try to feel better and Im glad I did. pic.twitter.com/AcwclmJPGZ

— Ghostly (@Kaaps_Loc) April 9, 2017
Not to mention the gorgeous photos that flooded Instagram! Take a peek at these fantastic images of last year's displays from Light City's Instagram.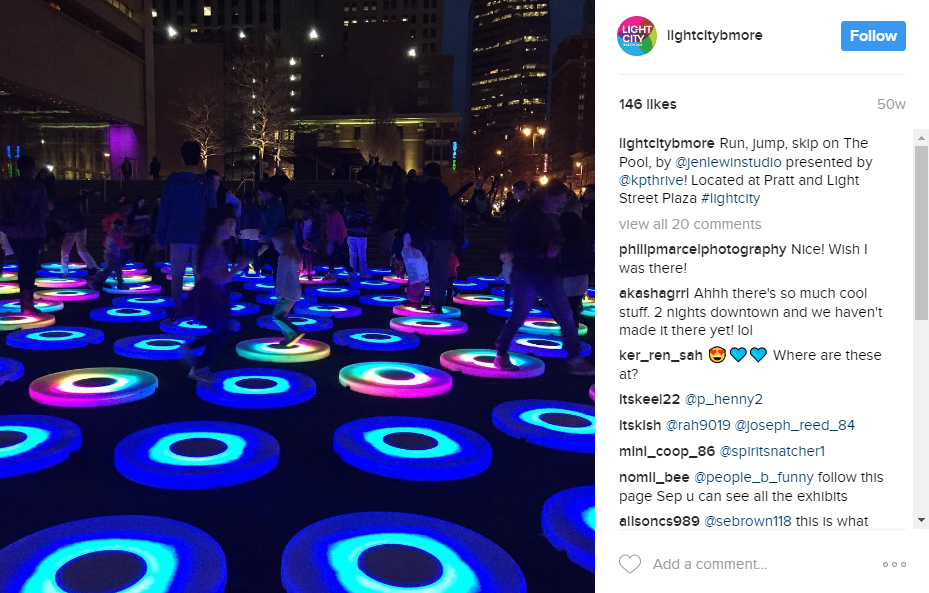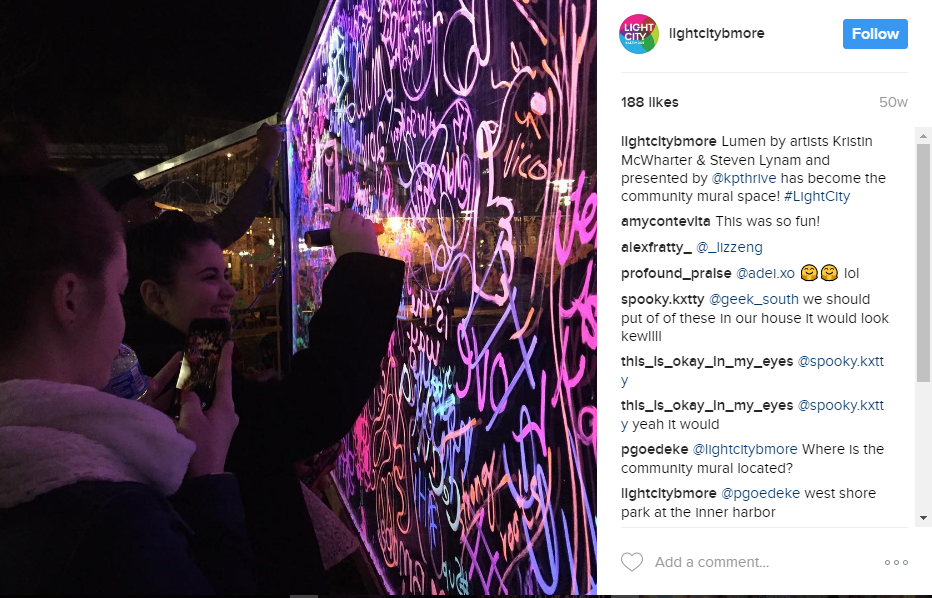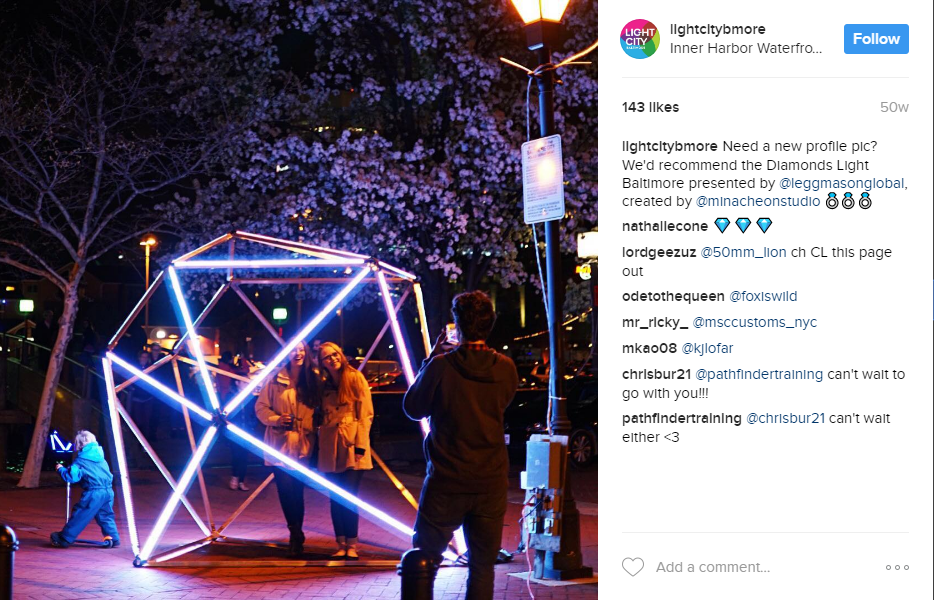 What to Expect at Light City 2018?
1. Light
Of course light plays a big part in Light City. The light-themed art displays and exhibits break down into two main categories:
BGE Light Walk
The BGE Light Walk, Light City's main attraction area, is back but with even more to see, do and eat in the Inner Harbor. Keep an eye out for illuminated puppets, stilt walkers, interactive exhibits, authentic Baltimore Beer, live performances at the Inner Harbor Amphitheater, and must-see attractions!
Neighborhood Lights
Neighborhood Lights, Light City's immersive community artist-in-residence program, kicks off April 6-8, 2018 and expands from eight to fourteen neighborhoods. This year, twelve artists were selected to create illuminated art for fourteen neighborhoods, including:
Baybrook/Curtis Bay

Belair-Edison

Bromo Tower Arts & Entertainment District

Darley Park

Federal Hill

Hamilton-Lauraville

Highlandtown

Hollins Roundhouse/Southwest Baltimore

Little Italy

Locust Point

Patterson Park

Pigtown/Washington Village

Remington

Waverly
2. Music
Enjoy pop-up performances throughout the festival including illuminated hula hooping, stilt-walking, caroling, dance, puppets, projections and more. Plus, musical performances on the Club Light City Stage and the Light Up The Night Stage
3. Innovation
Since it's creation, Light City has expanded to include a series of conferences known as Labs@LightCity. Each day emerging voices and established thinkers explore topics such as art, health, society, and more.
Labs@Light City takes place Wednesday, April 18 – Saturday, April 21, 2018. Conferences are located at the IMET Columbus Center at 700 E. Pratt Street, Pier 5 in the Inner Harbor.

See you at Light City Baltimore
We at Hirschfeld Apartment Homes in Maryland are huge fans of Light City Baltimore and hope our residents will enjoy the highly anticipated return of this spring festival.
Also, with spring officially here, we hope everyone in the Baltimore, Maryland gets to enjoy the season's many other fun and festive festivals too.