Hosting the Super Bowl at your Apartment
Super Bowl Sunday is almost here, and if you're thinking about hosting a Super Bowl party in your apartment, then you've come to the right place.
Contrary to what some may think, your apartment home is a great space to throw a Super Bowl party, and this article will help! In this post, we share six tips to help you throw a successful Super Bowl party in your apartment.
Let's get to it.
6 Tips for Throwing the Perfect Super Bowl Party in your Apartment
1. Plan
Make a grocery list and prep what you can before the big game. Plan the menu and make sure you go shopping for a variety of drinks, not just beer.
Also, be sure to consider in advance how much space you have available. Think about how many can comfortably fit inside your apartment before you send out invites.
2. Rearrange
People need space to express their "sentiments" towards the game. No one wants to get hit in the face by accident. Therefore, rearrange your furniture to make space and remove anything fragile in case guests do get a bit too passionate.
Plus, rearranging your furniture will allow for any additional folding chairs or seating arrangements. You might also need to make space for a buffet table or clear a corner for a cooler or two. Keeping drinks and food accessible is key to a great party.
3. Decorate
Get festive. Pick a team and decorate in their colors. Balloons always make fun decorations as well as streamers and tassel garland. Add a football-themed tablecloth and some decorative toothpicks for a hint of extra flare.
You can even set up a DIY Super Bowl photo booth with fun props!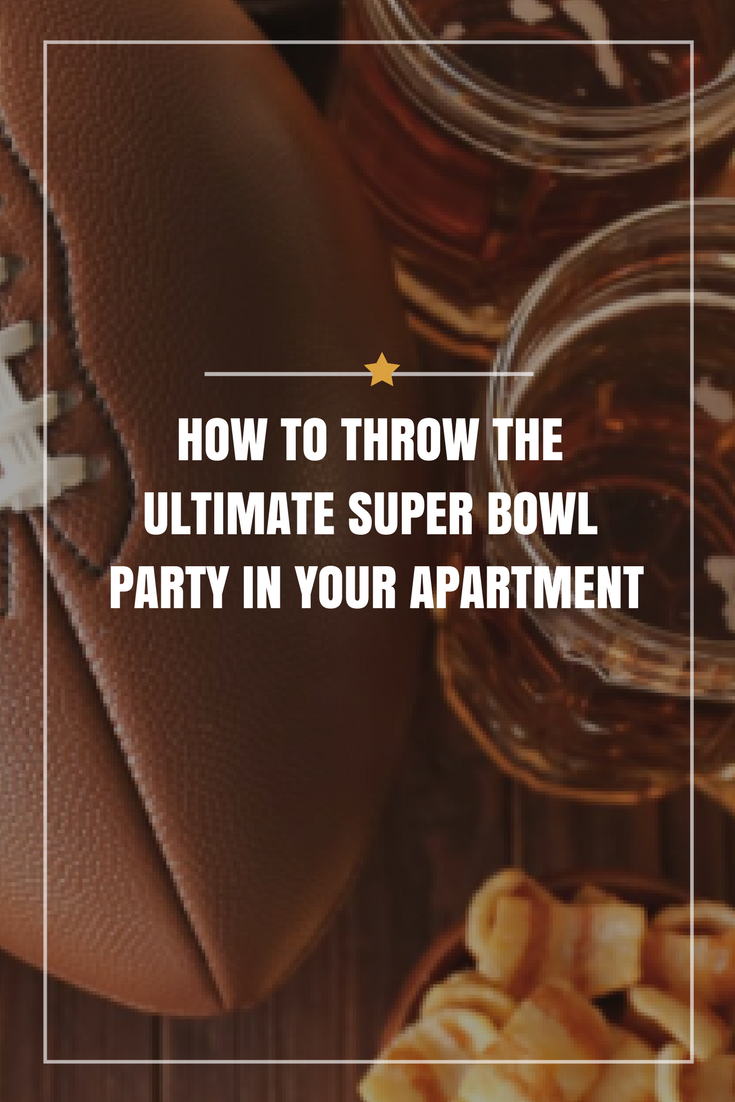 4. Buy Plenty of Snacks
Let's be honest, it's the food that truly makes it a party.  So, instead of serving a full meal, make it a night of snack on snacks! Finger foods such as wings, sliders, and pigs in a blanket are Super Bowl favorites as well as a spread of various chips and dips.
Stick to easy appetizers and packaged snacks, so you're not stuck cooking all day in your cramped kitchen. And don't feel bad about asking guests to bring their favorite snacks as well.
5. Stick to Paper and Plastic
Trust us, this one is a no-brainer. You won't have to worry about washing dishes and cleanup is as simple as throwing everything into the big black garbage bag.
Party City sells themed plates, bowls, cups, etc. for the Super Bowl. These throw-away party supplies add flare and make cleanup a breeze. You can order online and pick up at the store to save time.
6. Create A Little Friendly Competition
Amp thing up with a friendly wager on who will win. Play for bragging rights or have everyone throw a couple of dollars into a pool. You can play boxes or make up your own bets involving the commercials. For those with no connection to either team, a little competition can add some excitement to the game.
Throw the Ultimate Super Bowl Party in Your Apartment
So, what are you waiting for? Get planning, buy the decorations, decide on the menu, and get ready to party!
We at Hirschfeld Apartment Homes in Maryland hope this guide helps you throw the best Super Bowl party in your apartment community. We're rooting for you 😉
Know anyone who could use some Super Bowl party planning advice? Use the social media icons at the top of this page to share these tips.