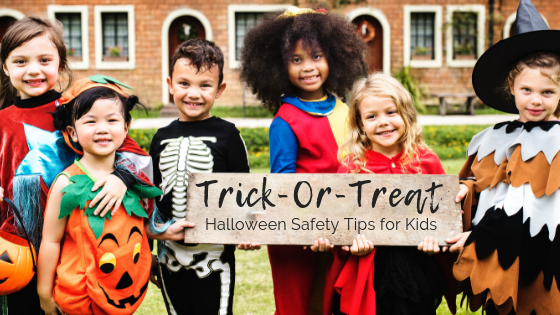 Trick-or-Treat Safety Tips
While Halloween is an exciting time of year, some tricks aren't always a treat. Parents often worry about keeping their little monsters out of harm's way. Therefore, we put together a few trick-or-treat safety tips for the big night.
So, when ghosts and witches take flight on Halloween night, make sure to follow these five tips below. And since there is no such thing as being too cautious, this article also includes a bonus list of Halloween costume safety tips.
5 Trick-Or-Treat Safety Tips 
Provide adult supervision
Never trick-or-treat alone. Going out in a group is safer and more fun! Make sure you get together with other adults as well. That way there is an appropriate ratio of children to adults.
Choose a familiar neighborhood
It's best to trick-or-treat in your community or a neighborhood you know well. That way you're familiar with your surroundings and can quickly spot if something isn't right. Don't let children go up to unknown homes or vehicles and avoid entering the homes of strangers.
Stay on the sidewalks
With all the excitement, your little ones may have the urge to run from door to door. Caution them not to run and never let children cross the street without an adult. Aim to keep on the sidewalks. If there isn't a sidewalk, be sure to walk on the far edge of the road, facing with the traffic.
Get home before dark
Try not to stay out past sunset. Most Halloween related incidents happen at night. Make sure to carry flashlights just in case you don't make it back in time before it gets dark.
Carefully check all candy
Check your children's candy for choking hazards or any potential allergies. Always throw away any unsealed candy or pieces without a wrapper. Also, avoid homemade treats you may receive from people you don't know.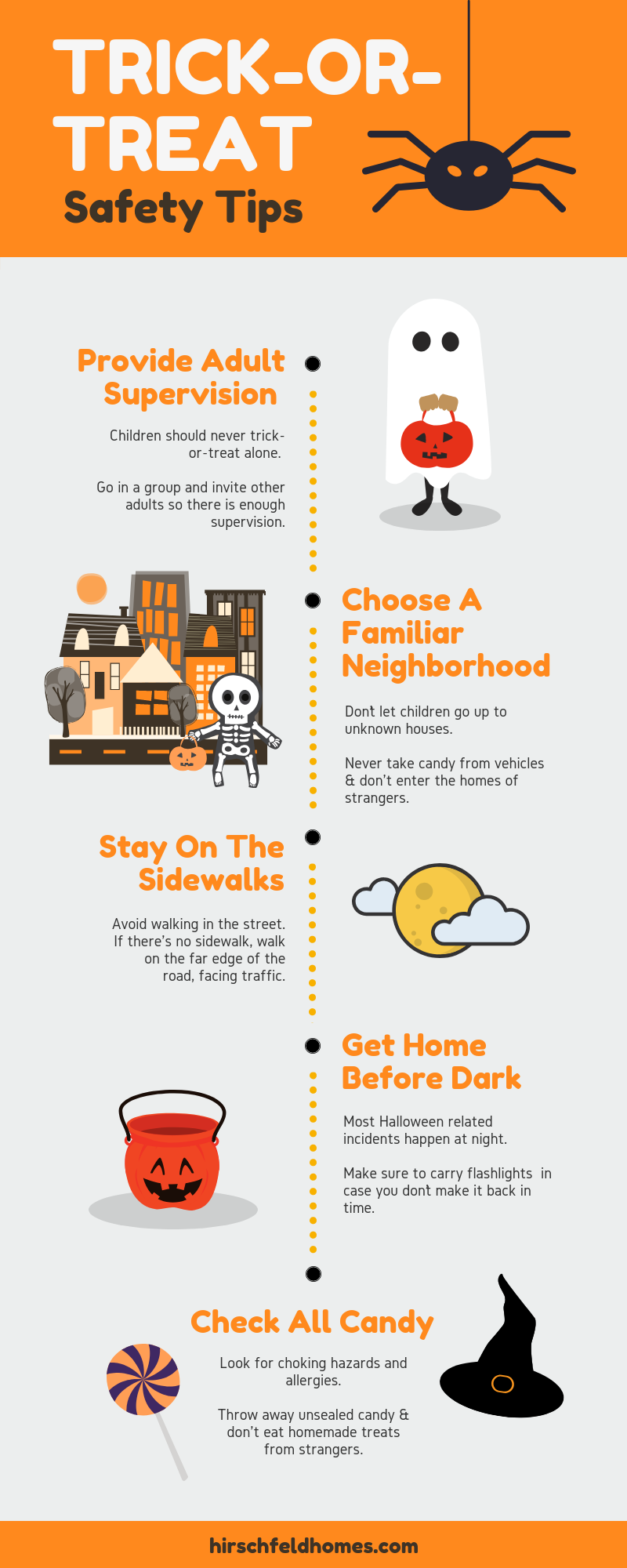 *BONUS Halloween Costume Safety
Since Halloween is a time where mischief can run amok, you can never be too cautious! Below is an additional list of costume safety tips to make sure your child doesn't cause harm to themselves or their friends.
Halloween Costume Safety Tips:
Choose bright, visible costumes
Make sure costumes are well-fitted (not too big and not too small) to avoid tripping or other injuries
Make sure child's shoes are comfortable and sturdy
Avoid costumes, wigs, and accessories made with flammable materials
Avoid masks that block vision and lack proper ventilation for breathing
Make sure props such as swords, canes, sticks, etc. are made with soft, flexible material
Check for harmful chemicals in face paint and hair dyes
Have a Happy & Safe Halloween
We at Hirschfeld Apartment Homes in Maryland would like to wish everyone a safe and enjoyable Halloween. Remember to use your best judgment this holiday. If you do encounter a situation, it is always best to contact the proper authorities.
For our residents and those in the Baltimore County area, we encourage you to contact the local police department if you witness any dangerous or suspicious activity:
Baltimore County Police Department
700 E Joppa Rd, Towson, MD 21286
(410-887-2214)
For more on Halloween safety, click here.
If you enjoyed this article, please use the social share buttons at the top of this page to share with friends and family on social media.