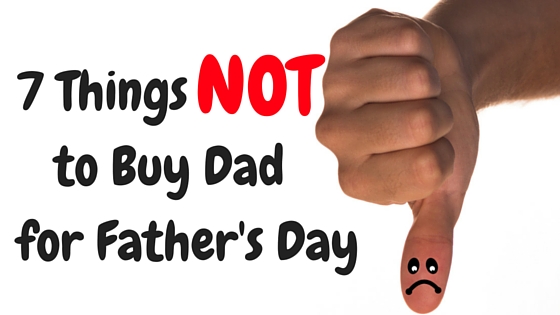 What Not to Get Dad for Father's Day
Father's Day is just around the corner! Sure, there are plenty of guides out there with fun and unusual gift ideas to surprise Dad. That's cool and all, but what does Dad really want?
We can't say for sure because each Daddy is special and unique in his own way. However, after some research, we concluded that the following is a list of the seven things you DO NOT want to buy Dad for Father's Day.
7 Things Not to Buy Dad for Father's Day
1. Old Man Tie
The most basic gift you can ever give a dad is a tie. Talk about unoriginal. It doesn't matter if it's Calvin Klein or the Minions from Despicable Me. Giving your dad a tie for Father's Day will only remind him of his stressful job. Don't remind him of work; take him somewhere fun instead.

2. Gag Gifts
Sure old man diapers and spray on hair are funny, but these gifts are hurtful. Even if your dad has the greatest sense of humor in the world, he's dying inside when you give him something that pokes fun at his elderliness. Don't be a sarcastic wise guy on Father's Day, and do NOT give him something utterly useless like Bacon toothpaste.

3. #1 Dad boxers
Awwkwaard… Yea, this is a bad idea. Unless you are a wife buying the father of your children underwear, no one else should purchase these disturbing garments. In fact, we are going to move down the list because it's so wrong.

4. As seen on TV
Let's face it, these gadgets never work. Do you know what the Perfect Pancake is? One from the diner. Take him there instead of flushing your money down the toilet. My Dad still manages to make sure I know how disappointed he is in the 5 Second Fix. The infomercial said it would glue a coffee mug handle back on….

5. Coffee Mugs
Speaking of coffee mug handles, do not buy your dad a coffee mug for Father's Day. The kitchen cabinet is packed to the max with quirky ceramic cups. Enough is enough. While some may appreciate the humor in "better latte than never," your old man will make do with his World's Best Dad, family photo, and Marvel superheroes mugs you previously bought him.

6. Back Scratcher 
I'll admit that my own dad is probably the number one receiver of back scratchers. From the expandable Bear Claw to ones shaped like hands, I have gifted them all to him as Father's Day cop-outs. What does he need a back scratcher for anyways? That's what the corners of the walls and furniture are for. Or the spatula, or a stick from outside, or Mom's long fingernails.

7. Gift Card
See the thing about gift cards is that now Dad feels obligated to shop at Dick's Sporting Goods when he really wanted something from Sports Authority. And if you give him the universal Visa gift card, you're saying either you ran out of time to order something better, or you know absolutely nothing about him. In that case, just give cash! I will say that cash never disappoints.

Happy Father's Day
Hirschfeld Homes Apartments in Maryland would like to wish everyone a happy Father's Day.
Maybe you're still unsure what to buy Dad this Father's Day. On the bright side, you now have a firm grasp on what you should NOT buy him!
On a more serious note, no matter the gift you decide to give, make sure your fathers and grandfathers know you appreciate them. A big hug and saying I love you can often make a much stronger impact than any material gift.