What to Pack for the First Night in a New Apartment 
Worried about your first night in a new apartment? Don't be!
Moving into a new apartment is an exciting time. However, we do understand how easy it is to feel overwhelmed by all that goes into a new home. Therefore, we put together a list of essentials to pack in your overnight bag.
So, whether it's your first apartment or a fresh start, this article comes equipped with tips on what to bring for your first night in a new apartment. Keep reading for suggestions and tips on what to pack, and don't forget to download our printable checklist!
What to Pack in Your Overnight Bag(s)
Clean sheets and a pillow
These seem obvious, but you'd be surprised how easy they are to forget in the shuffle. Keep it simple. You can always set up your bedroom with full bedding as you settle in throughout the week.
Pajamas
You'll want to change out of those moving clothes and into something comfy for your first night's sleep. Pack a pair of cozy PJs.
Clean clothes
Another easy one, but just as important to add to list. If moving in with kids, make sure to pack clothes for the children too.
Chargers
You might want to search local takeout joints, call in a pizza, or stream your favorite shows as you settle in for in the night. So don't forget to pack any chargers for devices such as phone, laptop, and tablet. We're usually glued to these items, so they're less likely to be forgotten. However, their chargers sometimes slip our minds.
Toiletries
After a long, messy day of moving, you'll be happy you remembered the soap. Plus, don't forget to pack shampoo, a toothbrush, toothpaste, deodorant, and any other daily toiletries so you can freshen up.
Shower curtain
Your apartment may not have doors on the shower or bathtub. If you need a curtain, you'll be glad it's in the overnight essentials bag.
Towels
You won't be able to shower without these. Well, unless you genuinely enjoy air-drying.
Paper Supplies
No one wants to go through a night without TP! Make sure to grab a few rolls of toilet paper along with some paper towels and tissues.
Basic cleaning supplies
Don't go crazy. All you need for your first night is a multi-surface cleaner, dish soap, a sponge or two, and a broom and dustpan.
Garbage Bags
Always handy!
Plates, utensils, and cups
You don't need the fine china for the first night, but make sure you pack the basics for simple meals. You might want to opt for disposable so that cleaning up after dinner is one less thing off your to-do list.
Flashlight
It's always good to have an old school flashlight in case of electrical problems. Just make sure it has working batteries!
Daily Medication
If you take any pills or daily medication, make sure you don't leave them behind.
Snacks
Moving can work up an appetite so pack simple, no-prep snacks to keep on hand such as fruit, nuts, and granola bars.
Beverages
You'll want bottled water if you don't have immediate access to a filtration system. Plus, instant coffee or tea bags for that morning caffeine fix.
Toolkit
It's always good to bring the basics like a hammer, screwdriver, and pliers.
Basic first-aid kit
Since moving heavy objects can result in a few nicks and scrapes, having Band-Aids, some antiseptic wipes, tweezers, and a few ibuprofen are wise.
Scissors
Bring a good pair of scissors to assist with opening boxes and any packages on their way over to your new home.
Contact numbers
Whether you store them in your phone or write them down, don't forget to bring any important phone numbers such as the moving company, maintenance, your lender or financial institutions, etc.
Food and dishes for pets 
If you have pets, make sure you remember their needs as well.
Wallet and credit cards
Again, this may seem like an obvious one, but it doesn't hurt to double check.
Keys
And lastly, don't forget the keys to your new home!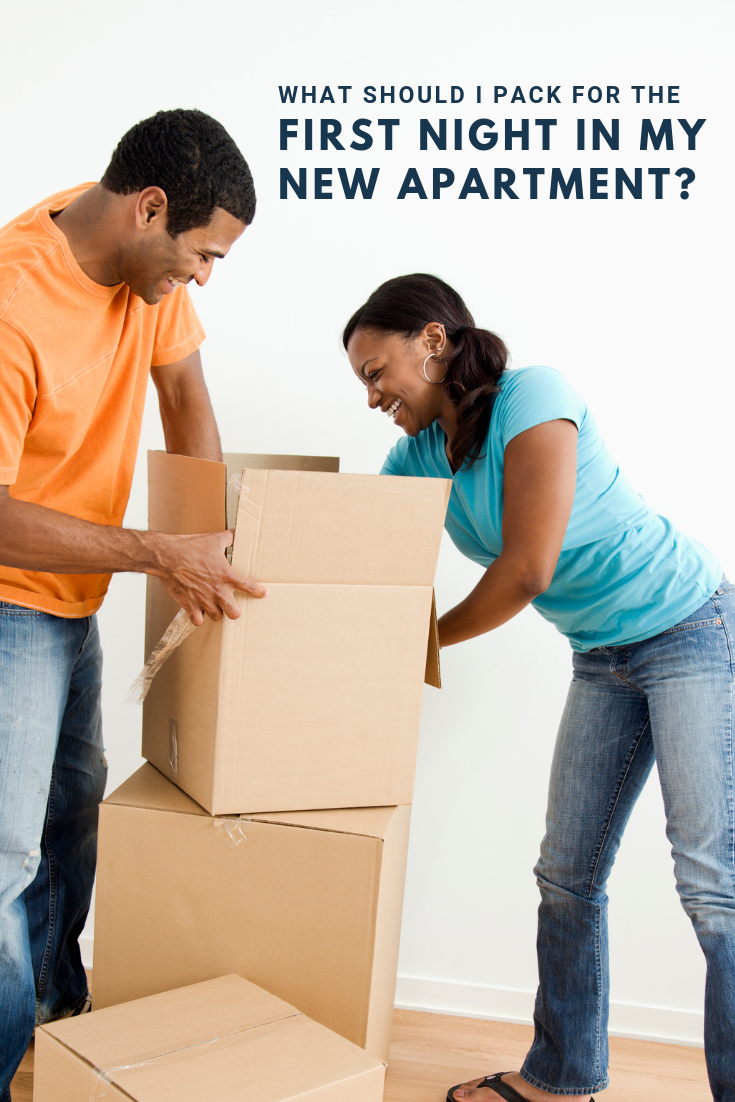 Best of Luck in Your New Apartment
We at Hirschfeld Apartment Homes in Maryland hope you enjoy your new living space. For those of you moving into any of our lovely apartment communities, don't forget to check the resident resource pages for more info on starting in your new home.
And don't forget to print the checklist above!
If you enjoyed this article, feel free to share with family or friends by using the social media icons at the top of this page.