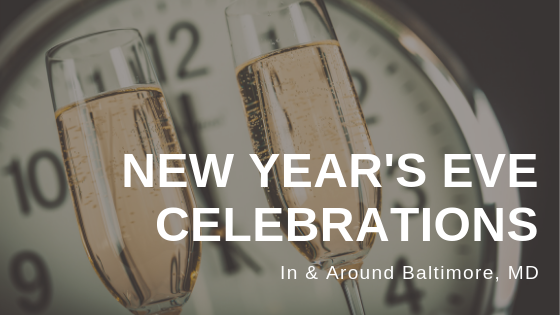 2018 New Year's Eve Celebrations
Want to ring in the New Year in style? Well, we've got the scoop on the hottest Baltimore New Year's Eve celebrations for 2018.
Our guide to New Year's Eve in and around Baltimore, MD features something for everyone. No matter your budget or squad, Baltimore has a New Year's Eve party for you!
Which one will you attend?
5 New Year's Eve Celebrations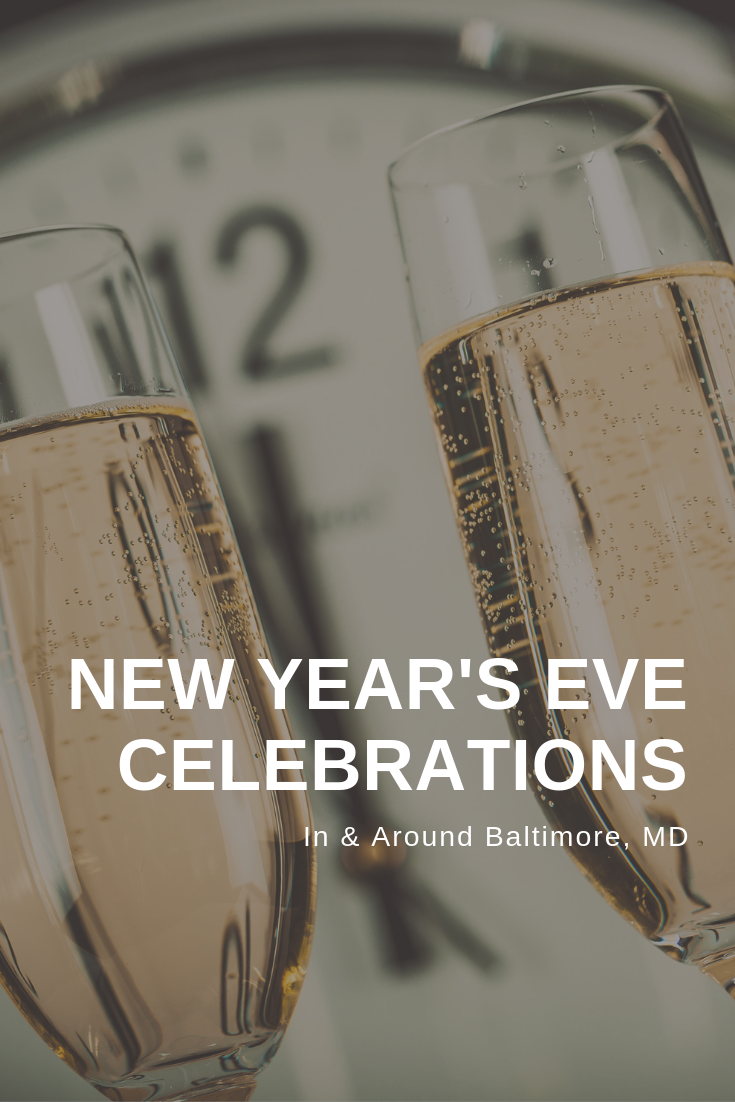 1. Baltimore New Year's Eve Spectacular
If you're looking for an affordable way to enjoy fireworks, live music, ice skating, and the glow of the inner harbor, then head to Baltimore's New Year's Spectacular. Visitors can head to the Inner Harbor promenade for a great view of the fireworks. The show can also be seen from the neighborhoods of Federal Hill, Locust Point, Canton, Harbor East, and Fell's Point. While it's free to watch the fireworks, you will need to budget money for food, possible transportation or parking, and if you plan to go skating.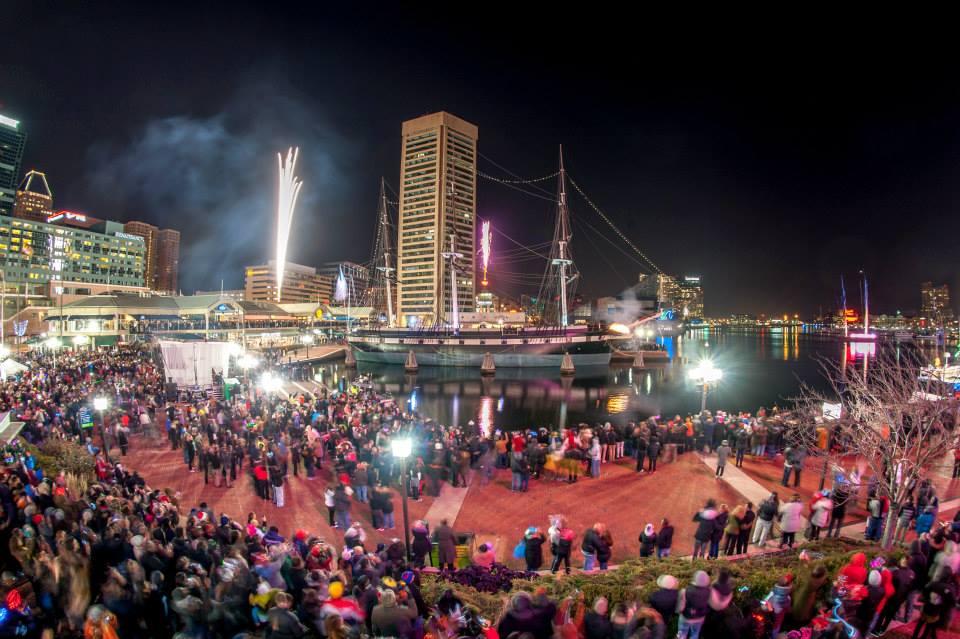 Photo via promotionandarts.org
2. New Year's Eve Duck Drop & Fireworks
In Harve de Grace, MD you'll find the annual Duck Drop and Fireworks show at the Havre de Grace Middle School. Don't worry; they don't drop an actual duck, just a gigantic light-up display (think Time Square's ball) shaped like a duck! The event is FREE! It takes place on the grounds of the school's Activity Center and will feature live music and family-friendly entertainment.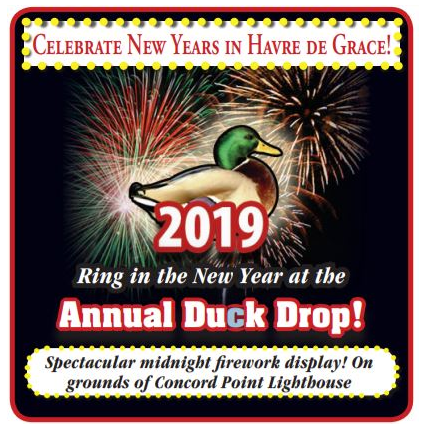 Photo via explorehavredegrace.com
3. New Year's Eve in Annapolis
Another way to enjoy fireworks and live music without breaking the bank is by heading to the New Year's Eve Celebration in Annapolis, MD. Trust us, it's worth the road trip to celebrate by the docks in Annapolis. There will also be free shuttles for a tour around the city, and it's said that City Dock or Main Street has the best views of the fireworks. The best part is all events at this celebration are free! There aren't any badges or buttons required. Park in the Annapolis City garages and ride the Circulator trolley to City Dock.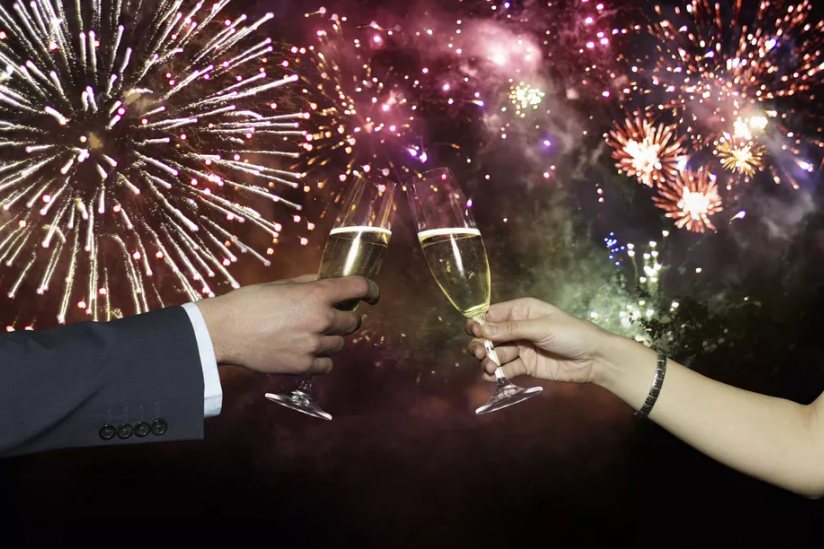 Photo Source: tripsavvy.com
4. NYE Live!
The Power Plant Live! bash is one of the biggest New Year's Eve parties in Baltimore. This massive midnight celebration will broadcast the Time Square Ball Drop while serving up lasers, confetti, a champagne toast, and a balloon drop at midnight. The event also includes exclusive access to 10 bars and nightclubs and an all-inclusive gourmet buffet and drink package from 9pm-1am. Tickets are selling out fast and range from $55-$105.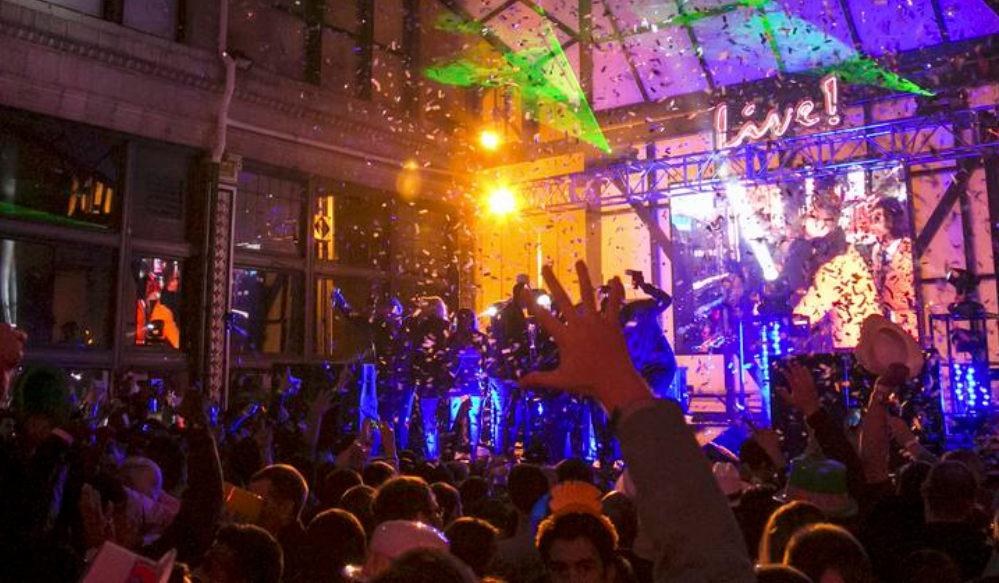 Photo Source: nye-live.com
5. Charm City Countdown
Transport yourself to Hollywood's Golden Age with Charm City's New Year's Eve Spectacular Celebration. Dress for the red carpet and head to the Hilton BWI Airport Hotel for over 12 different party zones including premium bars and gourmet buffets, live music and entertainment, a midnight champagne toast and balloon drop. Main event tickets start at $104 per ticket.

BONUS: Celebrate During the Day with Your Kids
Baltimore also has a handful of New Year's Eve events for children! So, if you're a parent, you may want to consider a Noon Year's Eve party at the Port Discovery Museum or the Maryland Science Center.
Have a Happy & Healthy 2019
We at Hirschfeld Apartments in Maryland would like to wish everyone a happy and healthy 2019! Don't forget to also check out our guide to Baltimore Winter Festivals.
For more Baltimore New Year's Eve events, visit tripsavvy.
If you enjoyed this article, use the social media icons at the top of this page to share with friends and family.