Affordable New Year's Eve in Baltimore, MD
The truth is, you don't have to shell out the big bucks for an enjoyable New Year's Eve. Besides, who has that kind of money after holiday shopping?
See, there are plenty of options for an affordable New Year's Eve right here in Baltimore. So, how do you ring in the New Year without wringing out your wallet?
Well, we put together a fun list of budget-friendly ideas to celebrate the end of the year, in Baltimore, Maryland. Some which you can even do in the luxury of your apartment.
Check it out!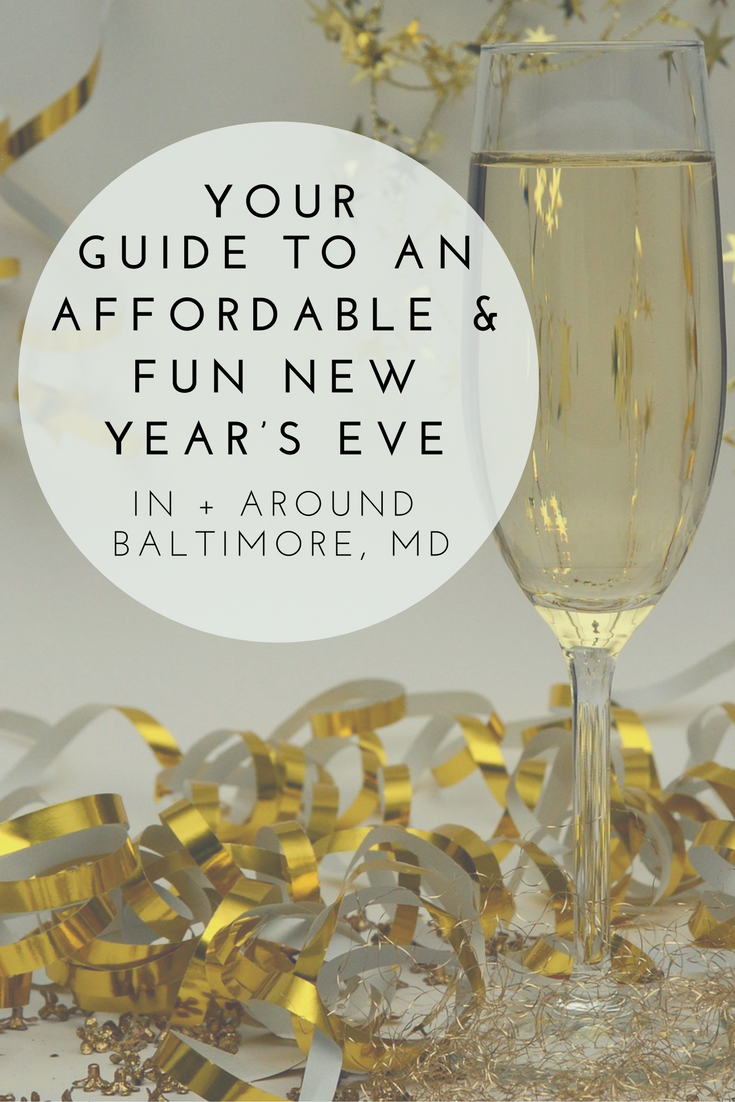 This guide to an affordable and fun New Year's Eve is broken down into three categories:
Night Out

For the Kids

Celebrate in the Comfort of Home
A Night Out
Sometime's it's nice to get out of the house, especially when it's your last hoorah of the year. Luckily there are a few spots in and around Baltimore, Maryland where you can toast to the town without breaking the bank.
Price: Free(ish) 
When: December 31 @ 9:00pm –  January 1 @ 12:30am
Where: Baltimore Inner Harbor
If you're looking for an affordable way to enjoy fireworks, live music, ice skating, and the glow of Baltimore's inner harbor, then head to the New Year's Spectacular. The music kicks off at 9 pm with a performance from R&B artist Alexis Joyce at the Inner Harbor Amphitheater.
Then, at the stroke of midnight, fireworks fill the sky above downtown Baltimore.  There will also be ice skating at the Pandora Ice Rink (but keep in mind regular rink admission prices apply). 
Visitors can head to the Inner Harbor promenade for a great view of the fireworks. The show can also be seen from the neighborhoods of Federal Hill, Locust Point, Canton, Harbor East and Fell's Point. While it's free to watch the fireworks, you will need to budget money for food, possible transportation/parking, and/or if you plan to go skating. 
Price: $5 per person
When: December 31 @ 4:00 pm – 8:00 pm
Where: Congress Ave Havre de Grace, MD 21078 
Speaking of ice skating, how about heading to Hutchins Park in Harve de Grace, MD (about a half hour from White Marsh). The best part about this nostalgic, holiday-themed ice rink is it will only cost you $5 for skate rentals. There will be lights, music, and plenty of outdoor seating if you prefer to sit on the sidelines. So, grab your coat and your friends and enjoy a night on the ice. 
This event is also great if you're planning a romantic (and budget-friendly) date. Pack some thermoses full of hot cocoa for an extra special treat! Afterward, come home and cuddle up on the couch while watching New Year's Rockin' Eve on ABC.
Price: FREE
When: December 31 @ 10:00 pm – January 1 @ 12:30 am
Where: 451 Lewis Lane Havre de Grace, MD 21078
Also happening in Harve de Grace, MD is the annual Duck Drop and Fireworks show at the Havre de Grace Middle School. Don't worry, they don't drop an actual duck, just a gigantic light-up display (think Time Square's ball) shaped like a duck! The event will take place on the grounds of the school's Activity Center. And bring your dancing shoes because there will be a DJ.
Price: FREE
When: December 31 @ 3:00 PM – Midnight
Where: 1 Dock St. Annapolis, Md. 21401
It's definitely worth the mini road trip to celebrate by the docks in Annapolis. With family-friendly activities starting as early as 3 pm, there's no shortage of fun here. There will also be FREE shuttles for a tour around the city and it's said that City Dock or Main Street has the best views of the fireworks.
For the Kids – Noon Year's Eve
Noon Year's Eve events are great for the little ones. Below are a two of our favorite, FREE, and family-friendly Noon Year's Eve events near Baltimore, MD.
Price: FREE
When: December 31 @ 10:00 am – 12:00 pm
Where: 8125 Honeygo BLVD, Baltimore, MD 21236
White Marsh's favorite shopping center is ringing in the New Year a little early on New Year's Eve. The Avenue at White Marsh will have live music for the kids, plus a themed photo booth, face painting, and giveaways. It's topped off with a big countdown and a ball drop for when the clock strikes 12 pm!
If you're itching to spend those holiday gift cards at this convenient outdoor shopping mall, then why not do it during Noon Year's Eve. It's not only a great event for the family, but a fun morning to catch while strolling through the stores. And the best part is it's free to attend (just bring money for lunch and/or shopping).
Price: FREE
When: December 31 @ 9:30 am – 5:00 pm
Where: 35 Market Place Baltimore, MD 21202
This year marks the 18th annual Noontime New Year Snow Ball, a family-favorite holiday tradition at the Port Discovery Children's Museum in Baltimore.
Port Discovery encourages kids to come dressed in their favorite costumes. Activities include decorating numbers and crafting sound makers for the noontime countdown. So, toast the New Year with juice and cookies and enjoy a handful of programs and performances done by this wonderful museum.
Keep in mind that if you have little ones (or simply not a night owl), a New Year's Eve countdown at 12 pm can be a lot of fun and you can even DIY the festivities at home. There are plenty of New Year's Eve themed crafts you can do with family and friends that are as low cost as a trip to the dollar store.
Celebrate in the Comfort of your Homes
There's nothing wrong with staying in for the night either. Maybe you'll  invite company over for dinner, drinks, and the annual TV specials, or simply stay in for the sake of staying in. Either way that doesn't mean you can't make the last moments of 2017 memorable at a low cost.
Here are a few ideas for a fun and affordable New Year's Eve at home:
1. Have a Pot-Luck Dinner
Pot-luck dinners are so underrated. If you're thinking about having a little gathering December 31st, have everyone make a dish and split the cost and time that goes into making dinner. Plus, the end of the year is a great time to empty out that fridge. Clean out and throw something together with what you have lying around instead of stressing out over more holiday food shopping.
2. Make it a Game Night
Staying in and playing board games with family and friends is tons of fun. Don't own any board games? No need to go out and buy some. Improvise with charades, go boardless, or make your own!
3. New Year's BINGO
We know our resident's love BINGO, but anyone can get in on this fun. Here's a printable BINGO card. You can use pennies for board markers or simply mark the squares off with a pen. You can play for cheap prizes, bragging rights, or IOU coupons.
4. DIY Noise Makers
Did you know you can make your own noisemakers for celebrating the big countdown? There are plenty of household items you can turn into sparkly New Year's Eve shakers. Or head to the dollar store for craft pieces.
5. Root Beer Floats
There's something about a root beer float that looks so nifty at a house party. Plus, they're great for kids and adults. You can even make them more adult by adding vanilla vodka. It's cheaper than hitting the bar and so much sweeter! All you need is root beer and ice cream. Here are some coupons for Breyer's Ice Cream.
If you need a little more inspiration, Pinterest is an amazing resource for "Stay at home New Year's Eve" ideas.
Happy New Year
We at Hirschfeld Apartment Homes in Maryland hope this guide helps with planning your New Year's Eve. Whether you head out to one of these events or celebrate the ball drop in your lovely apartment home, may your last day of the year be filled with memories to cherish. 
Also, keep in mind, if you still haven't had the chance to visit the holiday light displays in either Baltimore or Washington DC, many of these stay lit until January 1st! 
A new year brings new beginnings, so let us welcome 2017 with open arms and celebrate the start to new possibilities!
Happy New Year!