Baltimore Yoga Studios
Yoga is widely practiced for both health and peace of mind. Its many benefits make it a popular and timeless practice for all ages, genders, and ethnicities throughout the world.
Luckily, Baltimore, Maryland has quite a few fantastic yoga studios for both beginners and avid yogis. So, whether you are new to the Baltimore area or just looking for a fresh studio close by, below you'll find our picks for the seven best yoga studios in Baltimore.
Top 7 Baltimore Yoga Studios
This studio is absolutely beautiful. The staff is very friendly, and classes start at just $10. This is quite the steal in the yoga community! You'll have to sign up for classes online, but you won't need to worry about signing any contracts.
AsanaRoots uses the MindBody app which allows you to book classes, and purchase passes at a discount too.
Address: 1707 N Charles Street, Suite 201 | Baltimore, MD 21201
Hours: Sunday- Saturday 6:00 AM – 10:00 PM
Looking for a yoga place that has everything? If so, then M-Power Yoga is the place for you. Not only do they offer yoga classes, but they also have a boutique, showers, and lockers for your convenience. It's like a spa for yoga!
You can find discounts on classes from Groupon and M-Power's website. This studio also offers free parking and holds classes on the roof during warm weather too!
Address: 3600 O'Donnell Street,  Suite 100 | Baltimore, MD 21224
Hours: Monday – Friday 6:00 AM – 10:00 PM
Saturday – Sunday 9:00 AM – 8:30 PM
This studio offers affordable classes for both beginners and those who practice more regularly with a variety of classes. Goers rave about the friendly staff as well as the convenient parking. They also have two locations, one on Chestnut Avenue and another on Falls Road. People love both! Each instructor brings their personal take on yoga, making it fun and enjoyable for everyone. Plus, mats, parking, and water are all free of charge at Baltimore Yoga Village!
Address: 3000 Chestnut Avenue,  Suite 15  | Baltimore, MD 21211
Hours: Hours Vary
If you are looking for an intimate yoga session, then you will love Sunlight & Yoga. Their private and small classes are very comfortable and relaxing. The owner is friendly, and when teaching his classes, he makes sure to help those who have any mobility issues pose the right way. This studio is warm and inviting. They often leave their doors open to let sunlight and breeze in during classes.
Parking can get difficult every so often since they only have street parking. So, try to plan out parking arrangements beforehand.
Address: 4639 Falls Rd. | Baltimore, MD 21209
Hours: Monday – Saturday 9:00 AM – 8:00 PM / Closed Sunday
BambooMoves is a growing yoga community stretching throughout the Eastern states. With locations in New York, New Jersey, and right here in Baltimore, MD,  they offer some of the best deals in yoga around, including $80/month unlimited yoga.
The Baltimore studio has some of the friendliest instructors who always make the experience enjoyable and fun. BambooMoves instructors make it a point to practice yoga as a whole and not just focus on the poses, making it a welcoming journey for newcomers and practiced yogis. They have a new member special for $30, and single classes start as low as $18. For $20 you can attend one of their famous live music sessions.
Address: 1624 East Fort Ave. | Baltimore, MD 21230
Hours: Monday – Friday 9:30 AM – 7:00 PM
Saturday- Sunday 9:00 AM – 12:15 PM
Yoga On York, in Northeast Baltimore, has classes for the entire family to enjoy, including Kids Yoga for ages 5 -8. Other courses include Stiff Guy Yoga, aerial for beginners and experienced yogis. They even have classes on yoga teacher training.
This studio offers community yoga classes as low as $7 with free use of their yoga mats. You can sign up for online classes too!
Address: 6711 York Road |Baltimore, MD 21212
Hours: Hours Vary
Looking for a place that offers hot yoga? Look no further, Baltimore Hot Yoga & Wellness is one of the friendliest studios with classes to accommodate all body types. From restorative yoga to "Inferno HOT Pilates," there is something for everyone as well as both hot and cool yoga. Goers love the atmosphere and knowledgeable instructors. For discounts, check Groupon.
Address: 9512 Harford Rd | Parkville, MD 21234
Hours: Hours Vary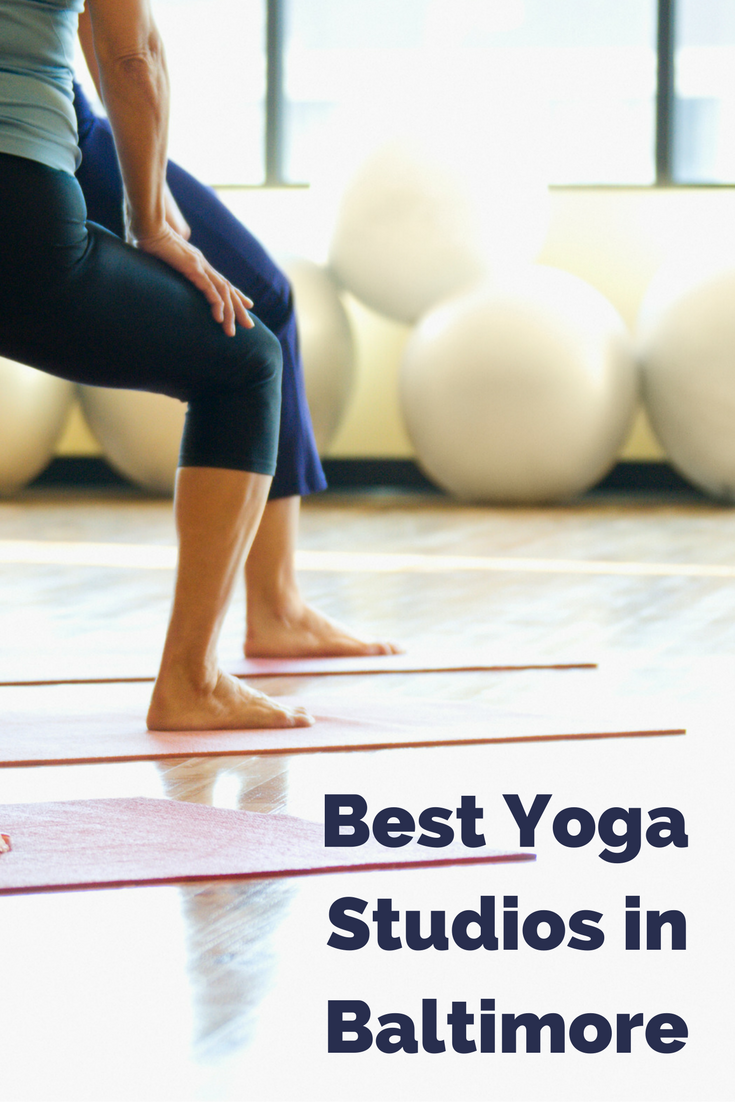 We at Hirschfeld Apartment Homes in Maryland firmly believe in the power of yoga. Yoga combines body and mind to work together in harmony. Not only are there many physical benefits to yoga, such as improved flexibility and posture, but mental health benefits as well. Plus, it's an excellent workout to perform right in the comfort of your apartment.
Know someone who is looking for a new yoga studio in Baltimore, MD? Use the social media icons at the top of this page to share with a friend!