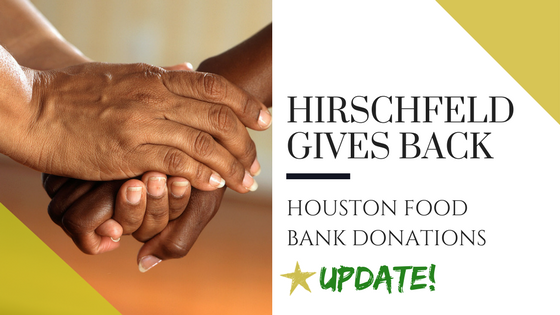 Hirschfeld Properties Supports Houston Update
You may recall last month's company-wide initiative to aid the victims of the tragic destruction caused by Hurricane Harvey. As a result, we have donated our September application fees from all properties, totaling in an amount of $1,335.00 to the Houston Food Bank.
Hirschfeld Apartment Homes in Maryland is proud to be a supporter of the Houston Food Bank and their dedication to serving others. We are also thankful for our fantastic staff who did an excellent job assisting our latest residents with their new homes. Together we all have help repair lives, and for that, we are truly grateful.
For more on Hirschfeld Gives Back, check out some of our other charity events on the blog.
As a reminder, October is breast cancer awareness month. Eagles Walk will be collecting $5 donations for the American Cancer Society. Staff members who participate will be allowed to wear denim jeans to work as part of the American Cancer Society's Denim Day.