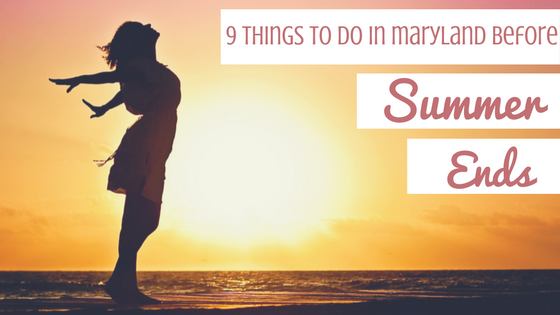 9 Things to do in Maryland Before Summer Ends
Can you believe it's August already? Where does the time go? Summer has always been one of those seasons that comes and goes a bit quicker than the others. One minute you're buying a bathing suit, the next you're back-to-school shopping.
Before you call it quits on the sizzling season, you might want to consider all that Maryland has to offer from now throughout the warmer moments of September. Here's a list of 9 things to do right here in Maryland, before rolling up the beach towels and rolling out the Halloween candy.
1. The Maryland State Fair
The Maryland State Fair is the biggest end of the year festival in and around Timonium, MD. Whether you choose to make it a date for two or round up the whole family, it's packed with fun for everyone. With animals, rides, games, food, live entertainment, and everything in between, it's the perfect way to finish off the season. 
2. Cockeysville, MD Outdoor Music Festival
This one goes out to the music lovers in Cockeysville, MD! The annual Hot August Music Festival is always an amazing concert bash with an incredible mix of talent. The outdoor music festival features a diverse lineup of artists and Kids 12 and under can get in for free.
BONUS: Every summer should have that one loud and crazy concert that leaves you with memories to treasure as the fall foliage rolls in. Therefore, for a full list of end of the summer concerts throughout Maryland, click here.
3. The Maryland Zoo
Who doesn't love animals? The Maryland Zoo in Baltimore is always a clawesome experience. Why not squeeze in a visit before the month is over? It's another attraction that's great for families, couples, and friends too. This August the zoo has a handful of special events including Breakfast with the Animals and a Summer Football Festival. There are even a few early September special events to bring the kiddos to before it's back to school.
4. Charm City Carousel
The Charm City Carousel is one of the most popular kid (and kid at heart) attractions in Baltimore. Located at the southwest corner of Baltimore's famous and beautiful Inner Harbor, the carousel is a personal favorite of ours. Make a day out of visiting the harbor or celebrate a birthday at the Carousel. This is great way to add in some last minute summer fun. No one can resist smiling when riding the Charm City Carousel.
5. Baltimore Restaurant Week
How about indulging your taste buds in one last savory, summer meal? Well, Baltimore's Restaurant Week is the perfect way to treat your mouth to the freshest tastes of the season. From August 5th – August 20th, enjoy discounted menu prices from some of the hottest local restaurants in town.
6. One Last Trip to the Farmers Market
Speaking of the freshest tastes of the season, now's the time to stock up on your locally grown and produced favorites. These wonderful farmers markets are always a summer highlight so make sure to support your local vendors before they pack it in for the fall.
7. Maryland Renaissance Festival
It's worth the drive to Annapolis, MD just to experience the Maryland Renaissance Festival. It's one of those events where everyone has to experience it at least once in their life. So if you have never been to a Renaissance festival, this is the summer to go! The festival runs, Saturdays and Sundays from 10am-7pm. Enjoy a 25-acre English village with specialty shops, food and beverage emporiums, jousting tournaments and more.
8. One Last Summer Swim
Our residents at Hirschfeld Apartment Homes in Maryland, have had fun making waves all summer with our resident swimming pools. But whether you have a pool too, or are headed to the beach one last time, ending the season with a swim is the most refreshing way to say goodbye to summer. Keep in mind residents that the pools will close come the end of Labor Day. Splash before it's too late!
9. Labor Day Parade
Labor Day is always the last hoorah of summer, so nothing says "hoorah" quite like a parade. Here are few parades that will be held in Maryland to honor the hard working Americans we pay tribute to on this National holiday.
BONUS: If you are going to be in Baltimore for Labor Day Weekend, make sure to check out our list of even more festivities, over here!
So, if you aren't quite ready to say goodbye to summer in Maryland, now is your chance to take advantage of all the state has to offer this time of year. We hope all our residents had an amazing summer and we wish all the kiddies the best of luck this upcoming school year. And if you do go to any of these fun, end-of-summer-events, share your experience with us on our Facebook pages.