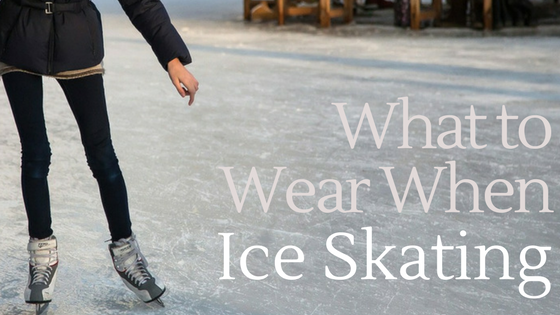 What to Wear When Ice Skating
Ice skating is an excellent winter activity.
It's fun, it's festive, makes an excellent date night, or an outing with the family!
But, what should you wear when ice skating?
Below you will find the do's and don'ts on what to wear when ice skating. Obviously, you will want to consider whether or not you will be skating inside or outside before choosing your attire. However, keep in mind there are a few basic rules that will apply to both indoor and outdoor ice skating.
What to Wear when Ice Skating
Some of these dressing tips will vary depending on if you chose to skate indoors or outdoors. If you will be ice skating outside, don't forget to add a hat and a weather appropriate coat to this list.
Do Wear:
1. Long pants
Specifically, pants you can easily move around in. Yoga pants are a great call here, as are sweatpants, joggers, or any stretchy pants fit for movement. Pants will also help if you happen to take a tumble.
2. Layers
If you're cold when you arrive you can keep yourself bundled up; as you begin skating you can remove layers easily to account for all of the heat you are generating.
Keep in mind that if you are skating indoors, the ice rinks are still kept at a fairly cold temperature, so you do want to dress rather warm.
3. Gloves
These not only keep you warm but help you to have something a bit softer to land on if you fall on the ice.
4. Appropriate socks
Socks can typically be an afterthought, but they're important when dressing for ice skating.  You're going to want to wear a pair that's warm and comfortable, but nothing too thick! (See the don'ts)   
5. Hair pulled back
 If you have long hair you will want to pull it back off of your face; for obvious reasons.
6. Helmet (optional*)
It's often recommended that new ice skaters, especially young children, wear a helmet for protection. Falls on the ice can feel nasty. Additionally, helmets will keep a young skater's head warm.
If you've never ice skated before, we have you covered with a few beginners tips.
Don't Wear:
7. Shorts
1) It's winter, why are you even considering wearing shorts? It's not fashionable this time of year or weather appropriate.
2) Shorts will leave your legs too vulnerable if you fall.
8. Dresses (without leggings)
While dresses are always fashionable, they fall in the same boat as the shorts when it comes to protecting your legs from falls. If you want to wear a cute dress out on the ice, we recommend a good pair of fleece leggings.
9. Tight pants
Now is not the time for tight, skinny jeans. Nor is it the time for any tight clothing in general. It restrains your movement and may prohibit you from catching your balance.
10. Thick socks
The important thing here is to have socks that will not hinder how your skates fit; if your socks are too thick, it may make it difficult to have the skates give you the correct support.

Need Outfit Inspiration?
For visual inspiration on cute ice skating outfit ideas, we recommend heading to Pinterest!
Get Dressed and Go!
We at Hirschfeld in Maryland hope our residents get a chance to get out on the ice and enjoy themselves this winter.
We have suggestions on where to go skating in Baltimore if you're looking for location recommendations.