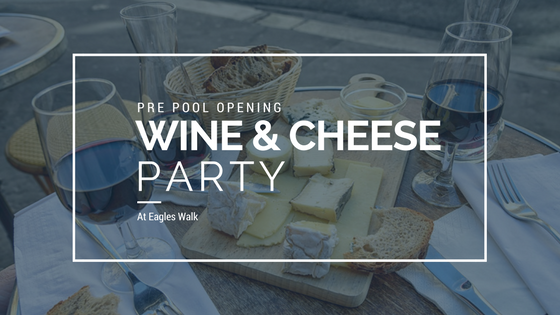 Summer is coming in hot for White Marsh, Maryland, and Eagles Walk Apartment Homes is turning up the heat with a Pre-Pool Opening Party!
We are only weeks away until the Eagles Walk pool officially opens on May 27, 2017. We know you're excited and the anticipation is brutal, but we're throwing a Wine and Cheese Party for ours and Ridge View Apartment Homes residents to ease the suspense.
Therefore, here's what you need to know about our latest resident event and the Eagles Walk pool …
Pre-Pool Opening Wine & Cheese Party
Date: Thursday, 5/25/2017
Time: 6:00 p.m. – 8:00 p.m.
Location: Eagles Walk Clubhouse
RSVP: Please RSVP to our office no later than 5/20/2017!
We will also be giving FREE GUEST PASSES to all residents that attend our Wine and Cheese Party.  These passes will allow you to bring a guest to the pool free of charge! 
Eagles Walk Pool
The Eagles Walk pool officially opens on Saturday, May 27, 2017. *Pool opening is subject to permitting weather.
Both Eagles Walk and Ridge View residents have access to the pool located at Eagles Walk, 7500 Eagle Walk Road.
To access the pool, you MUST have your resident ID card. Please make sure, if you haven't done so already, to update your card for the 2017 season. If you do not have a card, one can be purchased at the business office for $5.00.  Office business hours are Monday – Friday 9:00 a.m. and 6:00 pm.
Pool Hours:
*The pool will only be open on weekends until school lets out.
It will then be open Tuesday-Sunday, from 12:00 p.m. – 8:00 p.m. (Closed on Mondays)
We'll See You at the Party
Make sure to like Eagles Walk on Facebook in order to stay up to date with all of our latest events. We look forward to seeing everyone at our Wine and Cheese Party. Don't forget to RSVP!!
Have a fun and safe Summer! If you are looking for other fun and exciting Memorial Day weekend events and summer activities in the Baltimore area, check out our blog.