Swimming Pool Safety Tips
We are kicking off the summer season with the official opening of the Hirschfeld property pools. Woohoo! #GetYourSplashOn
Therefore, to help make sure this summer is not only fun, but also safe, we are sharing five swimming pool safety tips. These safety tips are ideal for all swimmers, not just residents. Whether you have a backyard pool or bringing the kids to a community pool, here are a few important guidelines to keep in mind for your safety and that of those enjoying the pool around you.
Feel free to share our infographic with friends and family on social media to help us spread the word on pool safety!

5 Swimming Pool Safety Tips
1. Make sure children are supervised at all times.
The emphasis here is on the word all because, in this day and age, it's very easy to get distracted if you are a poolside parent watching your child. Make sure to keep your eyes on what's happening inside the swimming pool. If you are going to be doing other things like reading a book or checking your phone, it would be a good idea to bring along a friend who can help you keep watch while you are at the pool area.

2. Do NOT forget to bring the Sunblock … and apply it!
As the days heat up this Summer, the sun will surely beat down on anyone who is spending time outside. That is why another great swimming pool safety tip is to remember to bring sunblock to the pool area and also to regularly apply it. Do not think you are safe just because you have put on sunblock in the morning when you will be out in the sun all day. Instead, try to reapply sunblock at least every couple of hours to avoid getting burnt, depending on the SPF level you are using.

3.  Avoid running at or near the pool area.
It is always dangerous to run at or near any swimming pool area. The last thing you want to do is fall on a slippery surface or cause any harm to your fellow residents by slipping and bumping into them. Being careful is the key to summertime swimming pool safety, and running in the poolside area is careless and unnecessary.

4. Do not push or pull others into the pool.
When in the pool area, the goal should be to have fun but also to stay safe. Do not go overboard when swimming and do not push or pull others into the pool for any reason.

5. Establish a buddy system especially when the pool area gets crowded.
It's always a good idea to establish a buddy system so that everyone in the swimming pool area is accounted for, especially during peak times with a crowded pool. A buddy system helps keep track of who is in the water and also helps to ensure that no one goes missing when entering, at, or leaving the pool area.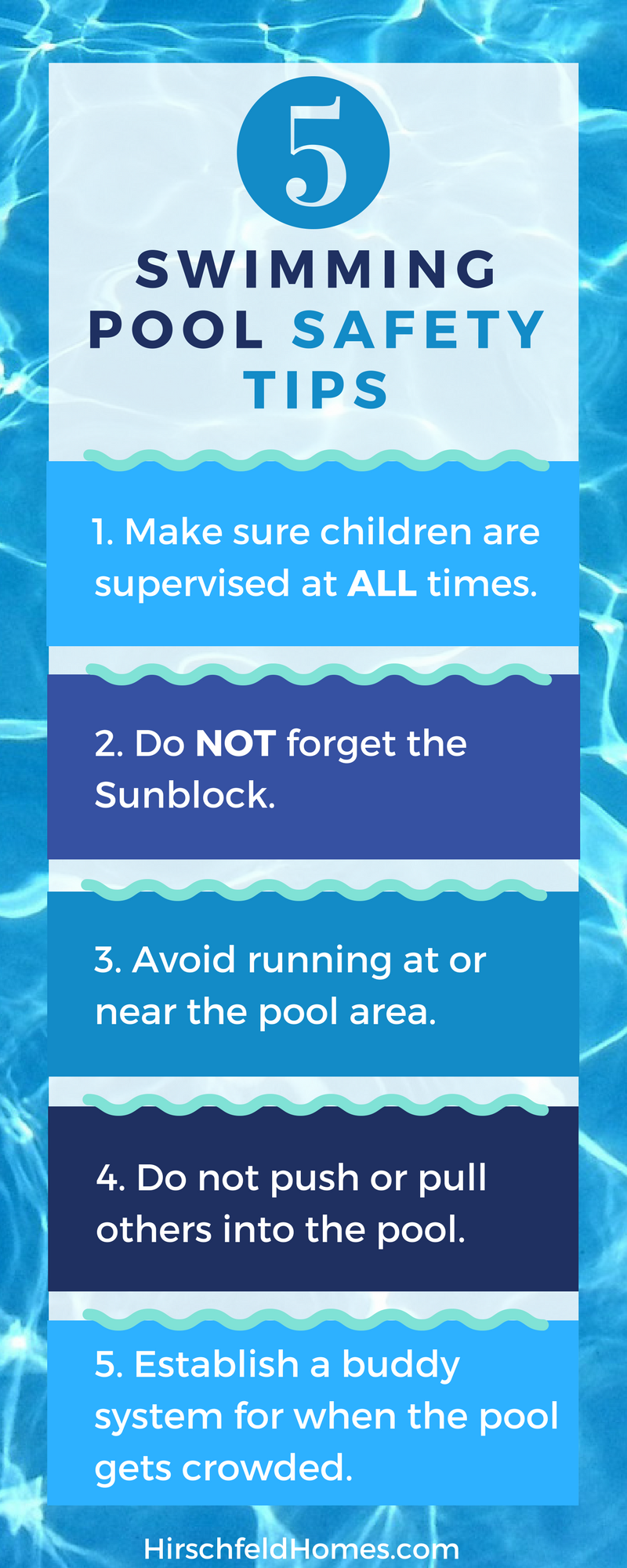 Stay Safe
We at Hirschfeld Apartment Homes in Maryland understand the pool is one of the most anticipated and enjoyed summer activities. We hope our apartment home residents keep these safety tips in mind when partaking in our property pools.
For Swimming FAQs per property, visit the following links:
We hope everyone has a fun, refreshing, and safe summer. Swim responsibly!