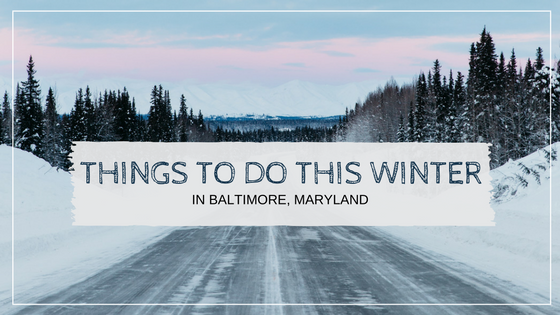 Winter Activities in Baltimore, Maryland
When it's cold outside, you may think there's not a lot to do… because well, it's cold outside. But, winter doesn't have to be boring. Continue reading for ideas of things to do this winter around Baltimore, Maryland.
So, are you bored and tired of staying in?  We can most certainly help with that. If you're in need of a little winter fun, check out our suggestions below. See, we've come up with a list of winter activities in Baltimore, Maryland that are sure to heat things up.
Let the activities begin!
5 Thing to do in Baltimore this Winter
1. Build an Igloo or Snow Fort
It doesn't matter how old you are, building an igloo/snow fort will always be fun. Not to mention that you can get your friends involved, and let's face it at one point or another you will get into a snowball fight. Um, who doesn't find that fun? There's nothing like a friendly snow war! But please…not the face.
2. Sledding
Woo Hoo! Sliding down a hill filled with snow on top of a sled whether it be a plastic one or an old metal one or even a garbage can top (old fashioned). You will be sure to have fun and one heck of a ride! So grab a couple of friends, race down the hill or slide down together until one or all of you fall off. It sure sounds like a good time, but WARNING please make sure you don't crash into any trees, fences, streets, or cars.
For our White Marsh, Maryland residents at Eagles Walk and Ridge View, check out this list of sledding hotspots near Perry Hall in Baltimore County (some as close as 6 minutes away from your apartment home).
3. Tubing
Now, if sledding is not enough for you, then Snow Tubing may be right up your alley. Yes, it does slide faster in the snow and if you go to the right place like Avalanche Express you'll get to enjoy their professionally designed snow tubing area. Just note, their prices also vary and if you pay cash you'll save a dollar. Day admission for adults on Monday-Thursday is $22, Friday $28 and Saturday, Sunday and Holidays $33.
Snow tubing is great for the whole family or a weekend with friends. If you chose to tube frequently as your go-to winter activity, Avalanche Express also has Season passes!
4. Ice Skating
Head on over to any of Baltimore's ice rinks for some skating. Have a fun-filled day with the family or make a romantic date night. Either way, you'll be sure to get a good laugh at some point. Yes, people always fall and it's hard not to laugh, but make sure you're prepared by wearing thick socks, a warm jacket and maybe a little padding to break your fall (if it happens, but we know you're a pro). This is an affordable way to spend the afternoon and do something fun. Admission costs $5.00 and skate rental is $3.00, not bad!
If you decide to go, please make sure to share your picture with us! Oh, did we mention it's an indoor Ice Skating rink? Check out our Ice Skating tips for Beginners blog for those of you who are trying it for the first time. 
For other excellent places to go ice skating, check out Where to Ice Skate in Baltimore.
5. Go to the Movies
Lastly, if the outdoors is not your thing – perhaps give the movies a try! During the cold winter days sometimes we rather do something indoors, but also get out of the house so what options do you have? The movies of course! Catch a comedy, drama, action, thriller or romantic movie! Check out your nearest movie theater and see what movies are playing.
We recommend heading to the old fashion Senator Theatre in Baltimore for a real treat. This historic theater will transport you back in time with the classy interior and long velvet curtain. Just keep in mind the theater is very small and only plays one movie at a time so plan ahead. ?
What's your favorite winter activity?
If you have any more ideas, please share with us so that we can add it to our list!
We hope you go out and enjoy the winter and if you do…please send us your pictures! We would love to see them. As always be safe and careful when doing these activities and always dress warmly.
All of these activities are about an hour away from Hirschfeld Home Apartments. Believe it or not, there many ways to enjoy the cold weather, so gather a couple of friends and make some fun winter memories.