Happy Thanksgiving from all of us at Hirschfeld Apartment Homes in Maryland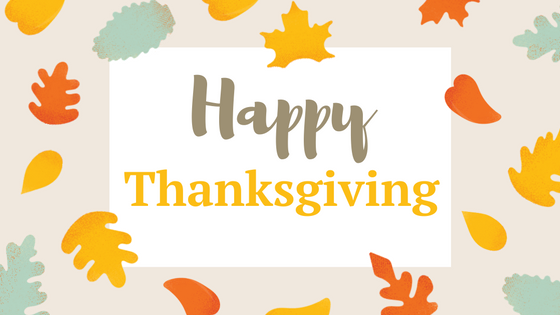 Whether you are hosting Thanksgiving dinner in your apartment home or traveling to dine with relatives and friends, we wanted you to know our Thanksgiving wish is for you and your loved ones to enjoy the holiday.
Being that this a holiday of thanks, we also wanted to take this opportunity to tell our terrific residents and employees, who help turn our properties into homes, how much we appreciate all of you.
We are so grateful for the wonderful memories made this year. Therefore, to help relay our message of thanks here is a list of the 5 things we are most grateful for this year.
5 Things We at Hirschfeld are Thankful For:
1. Our residents choosing to call our apartments, home
They say home is where the heart is and nothing warms our hearts more than knowing our apartment homes are not just a place to live but are your homes.
So first, and foremost, we are humbled and honored to each and every one of our residents; you are what we are truly thankful for. Your kind words throughout the years mean so much to all of us. Just look at what one of our Eagles Walk residents has to include in her list of reasons to be thankful…
Cece Eisen 

I'm thankful for my sweet loving man. His heart is bigger than the world 10x over. I'm thankful for having a nice warm apartment that's not just an apartment it's our home.
– Cece Eisen, Eagles Walk Facebook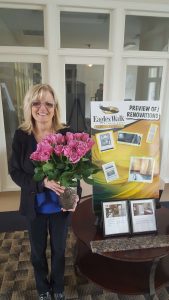 We are also thankful for those times when the residents do nice things for our team. Here is a photo of one of our team members holding a beautiful vase of roses, sent from one of our amazing residents as a thank you. Words cannot describe how much our residents mean to us.
2. Our Dedicated team members that make this all possible
There are many dedicated team members that work hard each day to make our apartment home communities a place to call home. From our maintenance team, to property managers, to our management staff. During this time of year, we would like to take a moment to thank each and every one of you for all of your efforts throughout the year.
The image below is a photo of our Employee of the quarter, a dedicated member of our team whose efforts throughout the year have provided great feedback from our residents.
"Thank You Chuck! You are a big part of what makes living at one of our Hirschfeld apartment home communities stand out."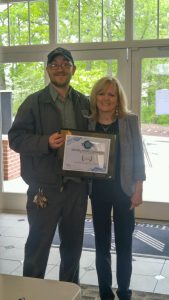 3. Tall Oaks 2016 MMHA Star Award
This year Tall Oaks apartment homes in Laurel, MD took home the Silver for Best Garden Community in the Maryland Multi-Housing Association (MMHA) Star Awards. We are so proud of our Tall Oaks staff and very honored to have achieved this award. Keep up the good work!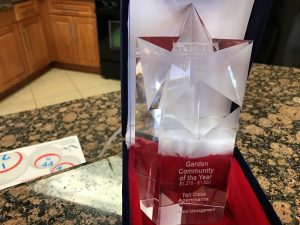 4. Stunning renovations
We are also very appreciative for your patience as we renovate our Cockeysville and White Marsh, MD locations. These communities have been receiving glamorous renovations, and we are very excited. Just look at these Steeplechase kitchens!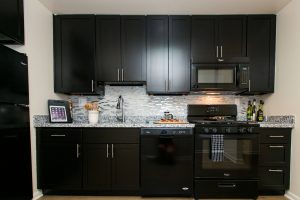 5. Resident Participation
Lastly, (but just as meaningful) we are so very thankful for all of the participation in this year's resident events.
We are extremely grateful to everyone who participated in resident games, such as Facebook BINGO. Big thanks to Jim from Steeplechase who let us take his picture to share with the community. Congratulations again Jim for being our BINGO winner at Steeplechase this year!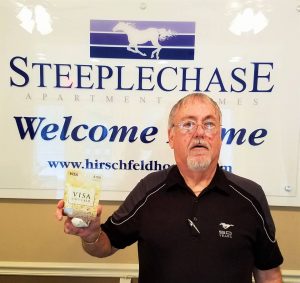 Our fantastic Ridge View staff made the last day of school a real treat for the children by greeting them with free balloons as they got off the bus in June. The children also enjoyed little goody bags prepared by the staff and celebrated an afternoon of fun together.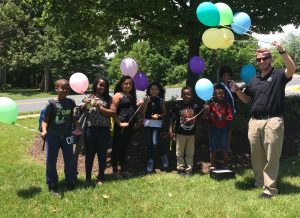 It has also been amazing to see residents and staff participate in our Giving Back events, like Tall Oaks Coat Drive and Lee Denim Day, which raised over $200.
Plus, we loved seeing the beautiful artwork Steeplechase residents painted with their apartment home community in the Steeplechase Sip n Paint. In case you haven't seen these masterpieces, take a look below!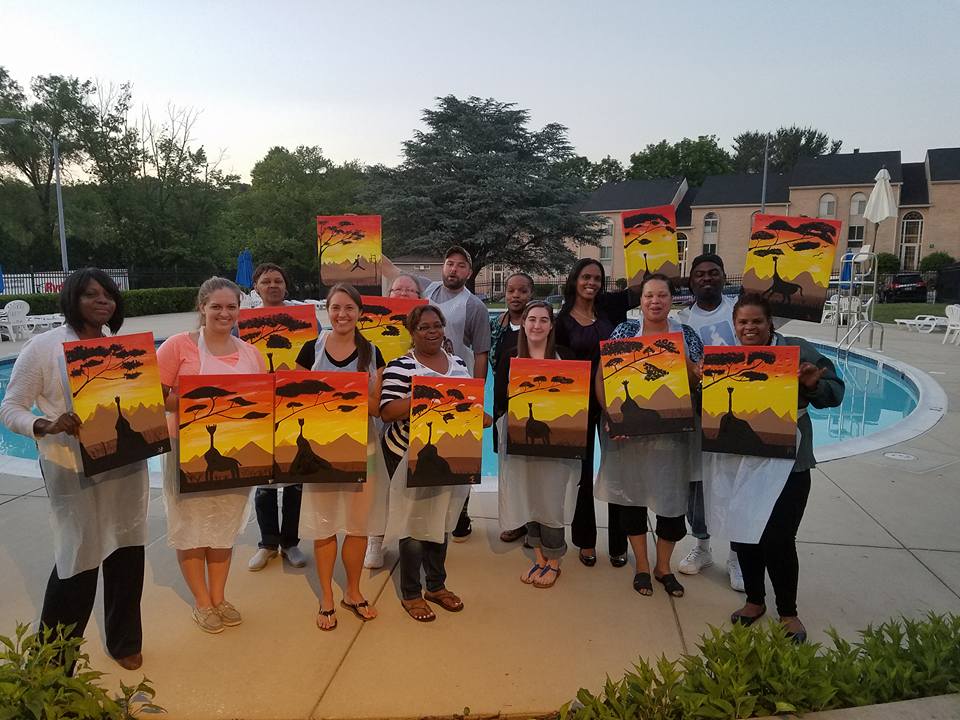 One Last Thank You
We at Hirschfeld Apartment Homes in Maryland are truly blessed to have such wonderful residents and staff. Thank you for being a vital part of our apartment home communities and may your turkey be scrumptious and your wine glass full!
Cheers to many more delightful years ?
Thank You