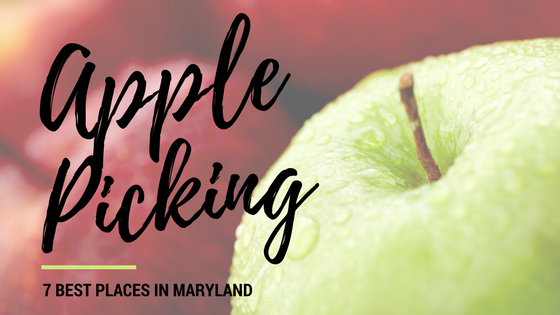 Apple pie, apple cider, applesauce, candy apples… Mmm! There's so much you can do with fresh apples.
Autumn is the perfect time of year for picking apples. Luckily, here in Maryland, we have many farms and orchards where you can grab fresh apples.
In this post, we name the top 7 places in Maryland for apple picking. So get your family and friends together for a road trip, and keep reading to find out where you can pick your ripe, juicy apples today.
7 Best Places in Maryland for Apple Picking
Address: 1495 Appleton Rd, Elkton, MD 21921
Picking Hours: Saturdays & Sundays: 10am-5pm
Family owned and operated since 1902, Milburn Orchards is a Maryland treasure with seasonal U Pick fruits and free wagon rides! U-Pick Apple Adventures begin on Labor Day Weekend and run through the end of October.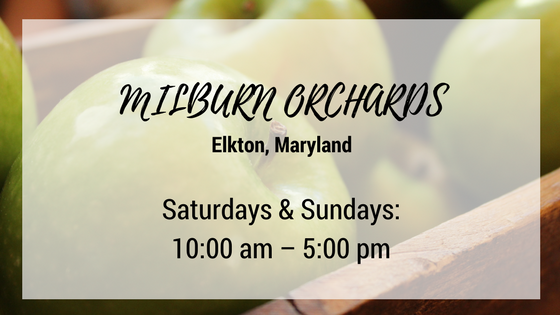 Address: 11409 Harford Road, Glen Arm, MD 21057
Call For Picking Hours: (410) 668-4488
Pick apples all throughout September until early November at the PeachBerry Farm. Pick from Gala apples, Blondees, and Honey Crisps. Picking hours depend on the how ripe the crop is, so make sure to Like them on Facebook for picking announcements.

Address: 3212 Snake Ln, Churchville, MD 21028
Picking Hours: Monday-Friday: 8:30 am – 6:30 pm
Saturday: 8:30 am – 6:30 pm
Sunday: 9:30 am – 5:30 pm
This one is perfect for those near Baltimore. Lohr's Orchard has been around since 1928 and located just north of Baltimore. They're famous for their apple cider and even offer free hayrides during the fall. Apple picking season starts mid-September for Lohrs so make sure to check their calendar before heading down. It's also wise to bring your own pull wagon due to limited wagons available for guests.

Address: 1015 Baugher Road, Westminster, MD 21158
Picking Hours: Saturdays & Sundays: 10:00 am – 5:00 pm
Head to Baugher's Orchard to pick from a large variety of apple trees, including Empire, Fuji, Stayman Winesap, Golden Delicious, Gala, Granny Smith, Ida Red, Jona-Gold and Red Delicious. You can also check out their farmer's market, gift shop and fall activities.

Address: 2415 Woodbine Road, Woodbine, MD 21797
Picking Hours: Sunday: 9:00 am – 5:00 pm

Monday: closed

Tuesday-Friday 9:00 am – 6:00 pm

Saturday: 9:00 am – 5:00 pm
Larriland Farm is a lovely location for picking apples. According to their website, the next varieties of apples to ripen are Crimson Crisp, Autumn Crisp, Jonagold, Autumn Gala, and Smokehouse. Just make sure to call them the day you are coming to find out what's available.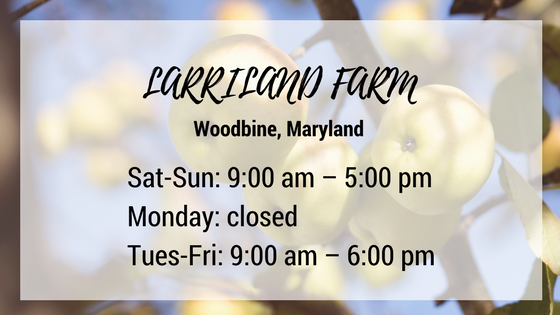 Address: 5594 Norrisville Rd, White Hall, MD 21161
Picking Hours: Monday-Friday: 8:00 am – 6:00 pm
Saturday: 8:00 am – 5:00 pm
This farm is located just south of the historic Mason Dixon Line, where PA route 24 meets MD route 23. It may be a bit of drive, but it's a road trip worth taking! You'll take a tractor ride to the orchard, and pick all the apples you like for $18 per half a bushel.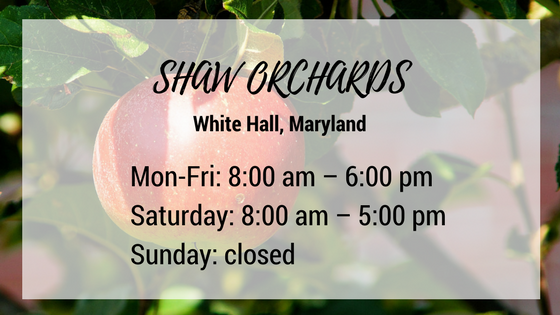 Address: 22222 Davis Mill Road, Germantown MD 20876
Picking Hours: Tuesday – Sunday: 9:30 am – 5:30 pm
This beautiful farm only cost $3.00 per person for admission, and on Wednesdays admission is free! After picking apples, visit the farm park picnic area, nature trail, and their giant slides. You can also see sheep, miniature donkeys, goats, chickens and Charlie, the pig.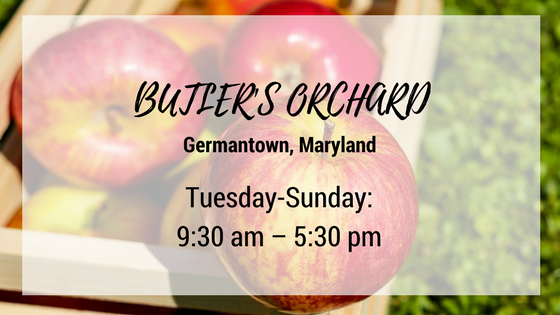 Happy Apple Picking
Ready, set, pick those apples! For apple recipes and fun, fall DIYs check out our Fall Favorites Pinterest Board.
And for more autumn activities in the Baltimore area, make sure to check out our article Things to do in Baltimore in the Fall.