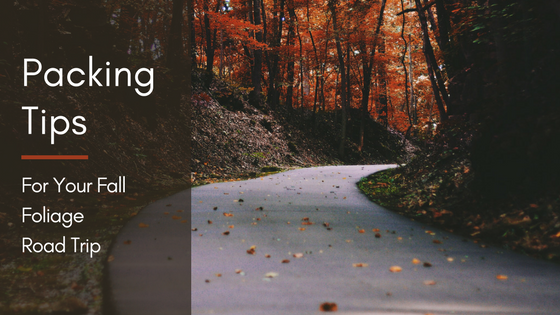 So, you've decided to take a fall foliage road trip.
Excellent choice!
But what should you bring on your adventure?
Don't sweat it. We've got your guide on what to pack below. So, grab a tote bag, a few of your besties, and get ready to cross this fun, fall activity off your seasonal bucket list.
What to Pack for Your Fall Foliage Road Trip
1. Camera Equipment
Whether you are the type of person who packs a suitcase for your camera equipment or just grabs a point and shoot camera; now is NOT the time to leave anything at home.  This time of year is one of the most beautiful and photogenic. You won't want to miss any opportunities to catch these lovely fall colors in action.
Be sure to have extra batteries packed and don't forget your electric charger.  Also, check to be sure you have a spare memory card or two (or extra film if your camera requires it.)  How many times have you grabbed your camera to capture the perfect shot and realized your memory card is full?  Let's plan for this in advance and either clear your memory card or grab an extra.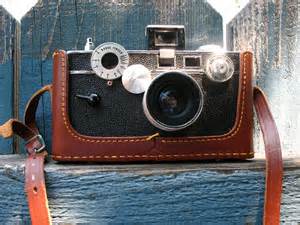 2. Chargers, Chargers, Chargers
Did you pack your cell phone charger?  Are you bringing a laptop?  Did you grab that charger?  How about a charger for your iPad and/or an iPod; you'll need to be sure to charge those too.
If you're traveling with more than one person, make sure they have their chargers too. Will everyone be able to charge their stuff in the car? Look into wireless chargers, if you don't already have them.
3. The Right Attire
Yes, it's fall, and everyone knows that means a chill in the air and perhaps some rain.  However, Mother Nature doesn't always give us the weather we're expecting. Be sure to check the weather in advance. You may need to pack mittens and a scarf if a cold spell is on the way. Or perhaps some extra sunscreen and a t-shirt if it becomes unseasonably warm.  
You're also going to be sitting in the car for a while; this is part of the fun. Make sure you are comfy while you are doing it!  Dress in layers. This will help you warm up quickly if you are cool, or take off a layer when you get too warm.
4. Water & Snacks
We all know the gas station convenience stores are overpriced and loaded with junk food! Here is an excellent list from "Best Health" in Canada for some delicious and healthy snacks for your trip.
Keep in mind, Apples are in season right now 😉

5. Pillows & Blanket
The pillow and blanket can solve multiple purposes here.  First, it can make passengers more comfortable and cozy during your long ride (think warm and cozy if the driver likes to keep things cool; or nice and quiet during nap time if the kiddos will be joining you on this adventure). 
You can also use the pillow and blanket to take with you to enjoy a scenic picnic.  We know you have packed your camera and are dressed for the weather; so grab your blanket and lay it out on the ground during one of your stops, stare at your natural surroundings and relax.  
6. A Paper Roadmap or Atlas
Humor me here, I know you use Google Maps or some sort of GPS navigation for just about everything. But, just in case you lose service or power – you'll be able to find your way home.  Plus it's way more fun to track your journey on a paper road map with a brightly colored marker.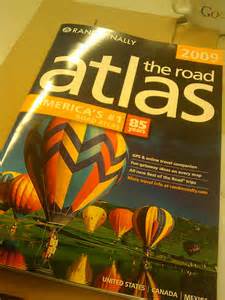 7. First-Aid Kit 
It's Always Good to Have a First-Aid Kit and/or an Emergency Kit. Things happen, and you should be prepared.  Your emergency car kit should include flashlights, jumper cables, etc (learn more here) and your first aid kit should be double checked as well. 
Here is a great resource for preparing a First Aid kit for traveling.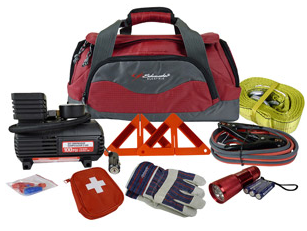 A Few Bonus Items to Include
Grab some extra tissues & toilet paper; a spare set of keys to pack in another bag, and even some travel games to help you enjoy the ride that much more.
Safe travels, and don't forget to enjoy the journey!